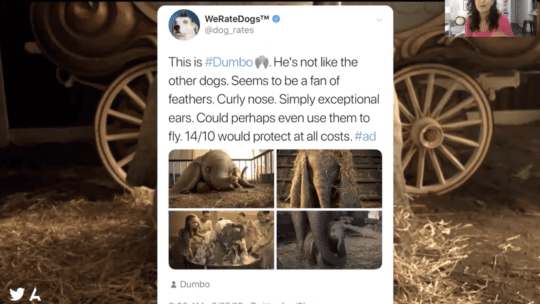 A seasoned communication expert knows the right words for any situation. However, an explosion in social platforms has led to an ocean of content. The real issue now is how to stand out from the endless scroll. Lately, being memorable and creating content that moves people lies heavily in the visual realm, Leah Feygin, head of the U.S. content creations at Twitter ArtHouse, said during today's Social Shake-Up opening keynote.
Speaking about creating unforgettable content, the ArtHouse executive used an example from a 2019 trip to the Burning Man festival to explain the importance of impression. 
"I could really only remember one art sculpture out of the hundreds of installations," Feygin said. "The one I remembered was a sanctuary made out of harp strings—very sensory. Mallets were available to guests. There was exquisite craftsmanship and a warm glow." 
Finding a spot with memorable visible qualities, she said, is similar to what makes people pause in a Twitter feed. 
Attention-Deficit Audiences
Using Twitter data, Feygin supported her point. Advertising creative is the number one factor driving product sales, according to Twitter research. Forty-seven percent of sales are attributed to creative, she said, which demonstrates that good content makes a difference. 
Unfortunately, despite the effort, most campaigns are easily forgettable. Feygin said 89 percent of ad content on social media is not remembered. 
How to Stand Out
Feygin offered three main factors to create content that stays in users' minds. These included:
unexpected visuals
unexpected voices and
unexpected connections to culture
She went on to show effective brand examples from Wendy's, Adidas, Disney's newest Dumbo movie launch and the NBA on TNT. 
Many brands work with Twitter to find digital artists who can create fresh, visual campaigns. Others reach out to influencers for a more realistic connection when talking directly to an audience. Whatever strategy is used, it's important to remember that social audiences are smart and can detect ingenuity in a flash. 
"People know when something is BS," Feygin said. In addition, "Twitter's audiences are catalysts of purpose. Consumers want brands to take a stand. Eighty-one percent of Twitter users agree that brands should use their positions to affect positive change in society."
For more examples and guidelines from Feygin's presentation, check out the session on-demand.
Nicole Schuman is a reporter for PRNEWS. Follow her @buffalogal