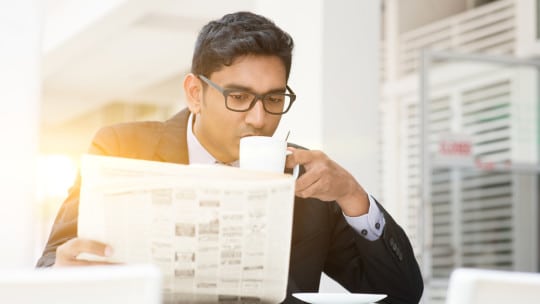 When political agenda masquerades as alternative facts and the lines of a free press become blurred, it's crucial for PR pros to decide the role they play in balancing loyalties to the media and our clients. It's a complicated issue – despite working for brands and clients, most PR pros have deep ties to journalism; many have years of work experience and the college degrees to prove it. That doesn't even begin to explore the professional, and often personal, connections we've spent years fostering with our media contacts. These relationships could suffer as we're challenged to separate fact from fiction.
Given the assault on truth in terms of news and information, there's no question that earned media is being threatened – the power of the press is in question, and that should set off warning bells for communicators. Mutual trust is key for any relationship, and our relationships with journalists are not different.
What can we do? How can we simultaneously support our media contacts and continue to earn great results for the brands and clients that employ us?
My two cents:
Become a cheerleader for a free press
We know it's incredibly important to cultivate positive relationships with media contacts, but now is the time that these affiliations can be getting terse. Send a nice note to your reporter contacts urging them to continue creating great work and letting them know that you believe in and appreciate them. Make a special effort to read as much of what they're writing as you can – yes, even things that have nothing to do with your brand or clients – and engage with their articles on social media. Look beyond what's in it for you – just as you would with any positive relationship.
Take a long, hard look at your media-consumption habits. Read and share original-sourced work instead of aggregators. Continue to work with local and regional reporters – often these journalists are spread thin and create total news packages (including multimedia, social media and photography as well as the writing and editing) across multiple beats. They are the heart and soul of a free press, and they need story ideas, too – so don't bypass them on your quest to find big national press for your brands and clients.
Strengthen client-press relationships
Similar to the point above, it's not only publicist-press relationships that need work to continue to grow – take time to strengthen the ties your brands and clients have to the media as well. This can take many different forms, but a good rule of thumb is to focus on building enduring relationships rather than just hitting a reporter one time with a hard pitch.
The clients and executives at brands we represent, in most cases, have decades of experience in their chosen fields, and can be great resources for reporters. Instead of trying to sell a specific angle on a niche, promotional subject, try to arrange a desk-side meeting, press visit or introductory call to demonstrate value to the journalist. You'll be building a relationship, and now the reporter has a respected, vetted source in his or her arsenal when the need arises.
Provide your contacts with good intel
It shouldn't be news to us that reporters need data to supplement their stories – it is very rare to find a reporter who will write a puff piece that's purely promotional on behalf of your brand. And as good as that might sound, OK, really good, think about it – that's not what we want from media. So give reporters what they need: hard facts and reliable data to back up claims and opinions.
In addition, provide compelling visuals and multimedia to run alongside stories, and offer diverse perspectives on topics. Make this diversity twofold – not only the diversity of opinion, but diversity of the people delivering it.
It can't be said often enough: transparency in media relations is imperative on both ends. Maintain a strict dedication to providing factual evidence to back up your claims, and continue to work on growing your media relationships to extend further than just the pitching process. We're all in this together.
Amy Lecza is senior content marketing lead at All Points Public Relations.