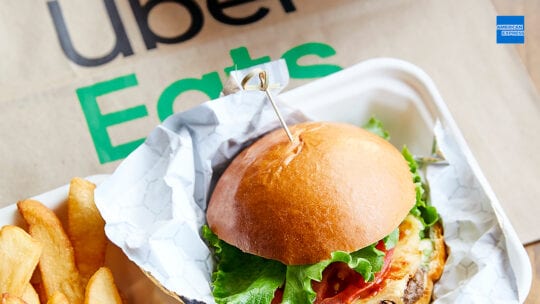 Since the inception of the pandemic, we've seen many businesses change their traditional focus. Restaurants that closed to public patrons became food distribution centers for essential workers and the needy. Retail clothiers added masks to their portfolios. And now, even credit cards are providing a different sort of value-add. 
Today (Oct. 26), American Express announced its latest partnership—with Uber Eats. With 2021 approaching, and annual fees on the horizon, many card holders across different brands may feel they are not getting the kind of value from their cards that they did prior to coronavirus, particularly when it comes to airline miles or hotel points. The Uber Eats partnership provides a creative way to realize value from card ownership. Clearly listening to its audience, American Express now is including an Uber Eats Pass subscription.
"U.S. Consumer Platinum, Gold and Green Card Members have access to a complimentary Eats Pass Membership for up to 12 months, which offers unlimited $0 delivery fee and 5 percent off restaurant orders over $15 and $0 delivery fee on grocery deliveries over $30 in select markets–a value of up to $119 (typically $9.99/month)," according to a statement from American Express.
In 2021, the American Express Gold Card also will provide members with up to $120 annually in Uber Cash, which can be used on Uber Eats orders or Uber rides in the U.S. A pretty sweet deal for those paying an annual fee, especially with an obvious increase in takeout orders across the country.
In addition to highly-regarded customer service and member perks, American Express has expanded its brand reputation to support small businesses. Since 2010, American Express has promoted Small Business Saturday during Thanksgiving weekend, the day after Black Friday. The partnership with Uber Eats does a good job to hook into that effort, whereas card members can further support local restaurants and businesses through Uber Eats. 
"Our card members crave food experiences, and we're seeing that they're continuing to seek out food-delivery services to create those special experiences at home, while also beginning to explore local dining destinations again," said Rachel Stocks, EVP, global premium products and benefits at American Express.
Nicole Schuman is a reporter for PRNEWS. Follow her @buffalogal