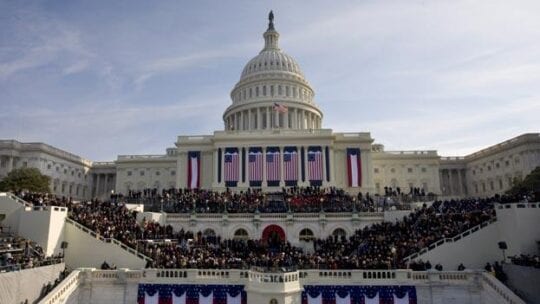 Earlier today, in a sunny, cold, militarized Washington, D.C., the country inaugurated its 46th president. There's little doubt that the country and media will focus on the new commander-in-chief and vice president for days, at least.
The eating, drinking and reading habits of Joe Biden and Kamala Harris will soon become news.
We'll see stories about how the new president exercises—his Peloton bike, some say, presents a cyber security risk—what he wears and how he interacts with staff, family and friends. And, yes, even his dogs will merit media.
Add to that the many historic firsts of the administration. It features VP Harris, the first female, Black, HBCU grad and person of South Asian descent, to be a heartbeat away. In addition, the country is getting its first second gentleman. And the new first lady is the first to hold a paid job outside the White House. All these firsts mean media hits.
Jobs
Speaking of jobs, let's not forget Biden and Harris have them too. An estimated 400,000 Americans are dead of COVID-19. And at least one expert predicts the worst is yet to come. Biden and Harris's task is great. As some historians liken it to something never seen previously, media coverage of how they attempt to overcome these hurdles will be intense.
More political-related topics that will dominate media coverage? Let's stick with jobs, or, more precisely, joblessness. How about the economic morass that's resulted from the pandemic?
Moreover, the country's new leaders face a racial divide and the fourth pandemic: that of misinformation, disinformation and mistrust. An AP/NORAC poll notes the lack of Americans' trust in the information they received from campaigns during the 2020 election. Eight in ten surveyed rated the spread of misinformation about government a "major problem." Politicians shouldn't feel too bad. The poll shows Americans don't trust the press either.
Vaccination Needs
Lack of trust in information is more than an academic concern. Roughly 60 percent of Americans have confidence in the coronavirus vaccines, surveys show. Reaching herd immunity will require vaccinating 90 percent of the public, some say.
More than that, a significant portion of the electorate believes the new president is not legitimate. After months of hearing the 45th president spew disinformation, many of his followers still think the election was rigged. Today's bipartisan display aside, so do a chunk of House and Senate members. At least that's what they said as recently as last week.
How to convey messages in a badly divided country is just one issue the administration and communicators face.
A more prosaic conundrum: How can communicators without political pitches get coverage?
Newsjacking
Piggybacking is one way. Just minutes after Joe Biden became president–he'd not yet finished his inaugural address–AHLA, the hotel and lodging association, sent reporters its leader's statement of congratulations to the country's new stewards. After the niceties, Chip Rodgers, the group's president/CEO, gets down to business.
"As an industry, we continue to face historically low occupancy rates, massive job loss, and record hotel closures," Rogers said in the statement. Even with the vaccine, travel won't reach 2019 levels until 2023.
As such, Rogers urged Congress and the new administration to craft "a longer-term stimulus package that will ensure our industry survives…." He also said he wants to work with lawmakers on comprehensive immigration reform, tax reform, and infrastructure investment.
Similarly, Ben & Jerry's, an openly political brand, took a presidential nugget—the first 100 days—and expanded on it.
Vogue magazine and the Markarian clothing label piggybacked on the First Lady's couture choice.
Another political brand, Patagonia, highlighted an organization doing work it supports.
Wait Up
Another tactic is waiting. Pitching during presidential inaugurations, major funerals, the Super Bowl and New Year's Day generally is taboo, says veteran PR pro Arthur Solomon. They "take up much of the editorial budget. And reporters and editors are too busy to care about stories pitched by PR people" on those occasions, he says. Solomon advises taking a vacation during those times.
Adds Amanda Ensinger, media relations director at Inspire PR Group, "Timing is everything. Sending a pitch during emergency situations or in the course of major national news will come off as tone deaf."
Solomon concurs. "One way to have a journalist pull the welcome mat from a PR pro is to bother her during major breaking stories." Doing this can put a communicator on "the pest list," he adds. Both Solomon and Ensinger suggest sometimes it's prudent to wait until a news cycle dies down before pitching.
Pitch Anyway
Still, there are exceptions. For Solomon, when the company you represent has a major story, you pitch it. Make certain, though, it's a significant story not only to you but in the eyes of journalists, he says.
In the current climate, Ensinger notes, reporters know that some readers are starving for a break from political coverage. Reporters, she says, "are looking for these stories," which might involve a product launch, for example.
Consumers are seeking relevance and service during this difficult moment, says brand strategist Margot Bloomstein, principle of Appropriate Inc. "Does your product offer comfort, consistency, or economic security?" she asks. If so, frame your pitch as "a relevant response to the political landscape," she says.
Since your audience is in a political sphere today, Bloomstein adds, use it. Meet audiences there to satisfy their needs, she says.
Similarly, Meredith L. Eaton, North America director, Red Lorry Yellow Lorry, notes news comes in many forms. While mainstream press is all politics all the time, "many industry and trade media outlets continue to focus on other beats."
If a pitch lacks political relevance, try looking to vertical-use cases, Eaton says, including customer-industry stories. For PR pros with global markets, pitch international media. While the readership volume isn't on the same scale as major media, she says, "these types of outlets may still be directly targeting your buyers."
And, of course, never pitch without being aware. "Be mindful of what is going on in the world" whether you pitch or not, Ensinger says.
Seth Arenstein is editor of PRNEWS and Crisis Insider. Follow him:  @skarenstein