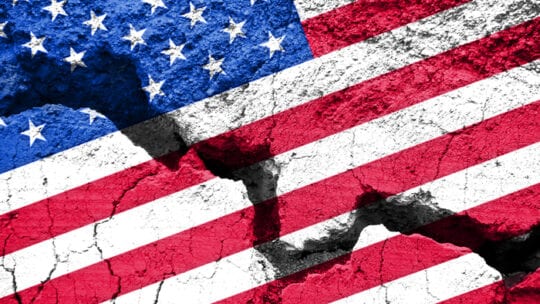 [Update (May 3, 2021): Several days after Basecamp's announcement banning political discussion at work, one-third of its employees walked out, accepting severance packages, The Verge reported.]
An unwritten bit of etiquette is to avoid religion and politics during dinner. The chances of diners agreeing on a position are slim, and, for many, identification and ideation quickly become passionate subjects. 
So it may not come as a surprise that several organizations recently announced bans on political talk in the workspace (virtual platforms included). Productivity software company Basecamp delivered the news this week in a blog post from chief executive Jason Fried.
"Every discussion remotely related to politics, advocacy or society at large, quickly spins away from pleasant," Fried posted. "You shouldn't have to wonder if staying out of it means you're complicit, or wading into it means you're a target."
Basecamp's action follows the lead of tech firm Coinbase's similar ban, in 2020. That decision yielded mixed results, as 5 percent of workers, unhappy with the policy, opted for an exit package. In 2019, faced with internal issues, Google banned employees from political discussions on internal email. Google also enacted policies designed to put a tighter grip on internal communication. 
While some executives believe moves like these can protect workers who don't want to talk politics and create a more productive environment, it's debatable if such bans work.
Politics seems a constant source of conversation at work. Eighty-four percent of U.S. employees reported discussing politics in the workplace, according to a Gartner survey.
With the 2020 election, the Jan. 6 attack on the U.S. Capitol and societal tensions, it seems natural that coworkers may feel a need to vent or reach out to colleagues. This is especially so throughout the past year, when many staff worked from home and saw friends and family rarely, if ever. 
Internal Communication Becomes Essential
At a time when the future of work seems to be changing, as employees reevaluate their needs and wants from a career, it's important for organizations to listen to staff before making decisions that impact the entire workforce. Making a wrong turn can damage a company's reputation on social media and discourage quality candidates from applying. 
Lisa Vasquez-Fedrizzi, Cheer Partners' SVP, employee experience, said the first steps in creating staff-wide policies is to listen carefully to employee concerns and promote safe spaces for conversations.
Survey employees to find out what they want the company to address, she said. It is "a great way to get an understanding of your employee population."
"In the last several years, social injustice and the importance of authentic diversity, equity and inclusion have heightened the employee experience on many levels," Vasquez-Fedrizzi added. "The injustices that we have all witnessed play a bit part in everyone's day-to-day personal and professional life, and it can be hard at times to separate feelings." 
On the contrary, Vasquez-Fedrizzi said silence is no longer a real option if a company wishes to earn trust with its workforce. 
"Silence from a company can be misconstrued as not caring about these social issues or not caring about the employees and their well-being," she said. "The company should continue to demonstrate their active commitment as they navigate through rough waters and help their leaders to develop an empathetic leadership plan."
When an Upset Employee Goes Public
Vasquez-Fedrizzi advises creating employee resource groups (ERGs) for safe discussion spaces, as well as holding town halls if a company decision has employees feeling slighted. 
In this instance, the company should discuss why it's choosing not to allow political discussions or take a stand on any social injustice or political issues, she said. 
And as always, transparency and openness are essential when holding these events, virtual or otherwise. 
"Share the reasons, answer questions and have an 'Ask Me Anything' session," Vasquez-Fedrizzi said. "By staying silent and not sharing the reasons, employees can easily make assumptions and can take to social to share their displeasure with their company."
Overall, honesty and two-way conversation go a long way when releasing policies, especially those regarding politics and self-expression, with employees. 
"It is always about being authentic in the message and allowing your employees to feel heard and understood."
Nicole Schuman is senior editor for PRNEWS. Follow her @buffalogal