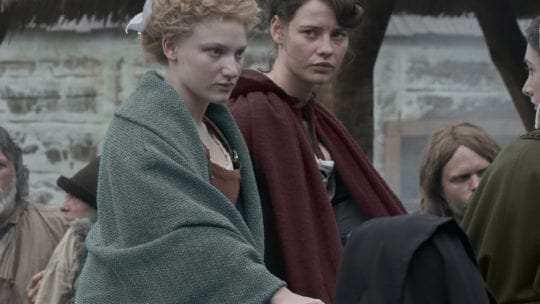 Otto von Bismarck (1815-1898) said, "Politics is the art of the possible." During the pandemic, PR pros are substituting communication for politics in von Bismarck's quote. The novel coronavirus seems to stimulate the creativity gene, at least in communicators. Travel destinations and cultural institutions are offering virtual tours. Orchestras are making available, for free, videos of past performances. Next month, the NY Times debuts "Offstage," where it promises virtual performances from Broadway stars.
Last weekend, there was more evidence of communicators' creativity. National Geographic Channel staged an invite-only viewing party for media and friends of the network. The goal was to generate buzz for "Barkskins," a limited series based on Annie Proulx's novel of the same name. Other goals included community building, celebrating talent and "championing projects we believe in," says Chris Albert, EVP, communications worldwide & talent relations, Nat Geo Channel.
Yes, we said weekend. Sunday evening at 5pm ET and 5 pm PT, to be exact. "We found people want to get away from their screens, so we went for the weekend," he says.
Talent Featured
The enticing package included a private viewing of the first episode of the new series. Following that, a large group of the series' stars, including Marcia Gay Harden, David Thewlis and Zahn McClannon, answered questions. In addition, the series' creator, Elwood Reid, took questions.
The effort looked seamless and felt exclusive. Even the Q&A session, with 9 cast and crew from the series, seemed effortless. Albert assures us it was a delicate dance of technicians behind the scenes. "They coordinated six Zoom studios," he reveals.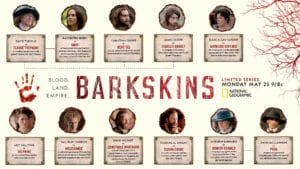 In addition, the Q&A was taped in advance. The downside, of course, is that media members in the virtual audience could not ask questions. A consolation, though, included excellent press materials, including a very helpful character tree (see photo).
Mistakes occur during virtual events, of course. But as we've heard from many communicators, and Albert agrees, "People are forgiving, especially when they know you are experimenting and trying to fill the void." That's one of his takeaways: "Go ahead, be creative. Do your homework, but don't be afraid to dip your toe in the water."
Two Janes
Albert and his team were buoyed when an event they re-staged earlier during the pandemic exceeded expectations. The event, originally a real one in Washington, DC, to promote a show about Dr. Jane Goodall, was to feature the famous primatologist in a conversation with two of her biggest supporters, actor Pierce Brosnan and Keely Shaye Smith, his wife. A cocktail hour would precede a showing of the film and a Q&A.
The pandemic forced Nat Geo Channel communicators to re-think all that. Instead, they decided on a virtual one-hour Q&A with Goodall around Earth Day. The film about Goodall was sent to media ahead of the chat.
Coordinating Zoom studios was the first hurdle. Goodall is sheltering in the UK. Brosnan and Smith were in Hawaii. Once that hurdle was cleared, things got trickier, but better. Jane Fonda, the actor and activist, asked if she could join the fun, from California.
Strong Attendance
Nearly 600 people viewed the live chat on the Sunday prior to Earth Day. Additional attendees from the curated guest list watched the event on replay.
That success led to several findings, including the wisdom of staging a Sunday-afternoon event. Copying that lesson with Barkskins worked. Attendance on both coasts doubled that of the first event. "3,000 people have watched [the Barkskins event] now," Albert says.
More lessons learned: Virtual events can be a good value. "For a red carpet we have…700 people tops…with Barkskins we had 3,000," Albert says. He quickly admits, though, nothing can replace a physical event.
After the pandemic Albert sees virtual events as a supplement to the real thing. For example, press members not located in the city where Nat Geo holds its kick-off events can attend virtually.
Expanded Attendee Lists
Another lesson, virtual events allow the host to invite a lot of interested people who might not make a smaller event's list. For example, the Barkskins invite list included members of several guilds, including those for costumes, hair and makeup. Since much of Barkskins occurs in the 1600s, members of those guilds played a large role in the production.
And what looked seamless to the audience actually required "a lot of time and effort," Albert says. "And [virtual events] are not cheap." While they're less expensive than a red-carpet premiere, Albert says "You can spend $10,000 to $150,000 for a virtual event."
Seth Arenstein is editor of PRNEWS. Follow him: @skarenstein