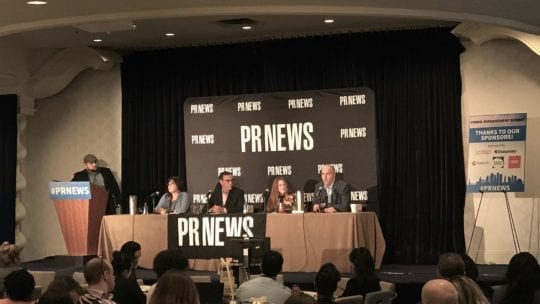 Social media can be a brand's greatest friend or greatest foe in a crisis. Being honest, saying you're sorry and responding to complaints with an authentic voice are keys to success, a panel of communications experts told the PR News Crisis Management Summit this week.
The first step when something is blowing up on social media is figuring out whether to engage at all, said Andrew Sherry, vice president of communications for the Knight Foundation.
"We have 133,000 followers on Twitter and maybe the person commenting has 50. We don't need to respond to everything. Now then there is someone who has a strong following—we respond and try to take the conversation offline and the momentum dies,'' he said.
Sometimes a little patience is needed to follow your community online and see how people are responding.
"We watch the comments. That's key for us. How does the rest of the community respond tells us a lot about how to get out of the situation or use their comments,'' said Lisa Goode, senior director of communications services and social business for Southwest Airlines.
After a tragic accident on a Southwest flight last year, the social media response was an outpouring of sympathy and support. "A lot of that was the result of the work we had done over the years to be out there and talk about the wonderful things our employees are doing and what our customers are doing. So they were there to support us and lift us up,'' Goode said.
Having all of that support is vital in a crisis, even when you have to apologize.
"Sometimes saying you're sorry is absolutely necessary to turn the tide,'' Sherry said. "That's where a sympathetic audience can help you and goodwill earned over years matter.''
It's also critical that the messaging feel human and that's where the communications team comes in.
"It's important that social media posts be genuine,'' said Chris Chiames, chief communications officer of Carnival Cruise Lines. As opposed to what might be distributed through the marketing department, the communications team usually can bring a more authentic voice to the conversation, he said.
To make sure your company can respond appropriately, planning is critical, and that includes looking for other internal and external sources to supplement your staff so they don't get burned out with overload.
"In the heart of a crisis you have a volume problem, said Emma Monks, VP of crisis intelligence at Crisp, one of the conference sponsors. "Do you have a team that can scale up to respond, perhaps using staff from other departments? Otherwise you risk falling back on canned messages and you look robotic.''