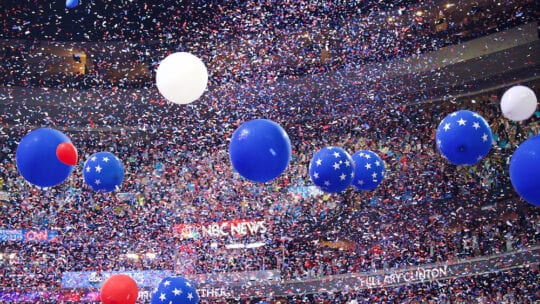 It's a big night for (virtual) politics. 
In the midst of a tumultuous 2020, it seems Democrats hosted their presidential primaries decades ago. And with frontrunner former United States vice president Joe Biden's nomination locked up since April, the Democratic National Convention (DNC) arrives as a relief to some, and the unofficial start of the presidential campaign for others. 
Traditionally touted as a celebration for political buffs of all things blue and democratic, the DNC certainly will boast a different feel this year, as guests and Biden's acceptance speech will be broadcast nationally, but conducted virtually. 
No former U.S. president Bill Clinton fawning over falling balloons. No real-time booing of Sen. Ted Cruz. No Al Gore swooping in for a spontaneously awkward kiss with Tipper. The coronavirus will make the DNC a much different experience to watch. 
Marc Burstein, senior executive producer of special events for ABC News, told Deadline that while the experience is going to be different, viewers should be comfortable.
"It is very unusual, but so is watching baseball and basketball games without fans," Burstein said. "I think Americans are getting used to this new normal that we are living in. I think it is going to be a little more disconcerting for the speaker." 
And in a world where so many industries are trying to navigate a switch to virtual events, it's sure to provide great lessons for many managers, planners and promoters. The DNC already distributed information for viewers on how to watch and engage, but deeper learnings could come in real time. 
Here are some unofficial ideas on what the DNC could consider to make its virtual event a success. 
Digital Media Engagement
It's extremely important to create a digital strategy surrounding an event, PR pro David Wolpert wrote in PRNEWS earlier this month. This will take precedence in January 2021, as the Consumer Electronics Show, one of the largest annual trade shows in Las Vegas, Nevada, will go virtual. 
"Consider how an event and your company's part in it will be packaged and distributed digitally," Wolpert wrote. "Digital innovation and experiences are essential in this process as communicators rely on amplification to execute a successful plan."
An article in The Washington Post said the DNC plans to show live feeds from viewers around the country watching from home—much like the current live fans who are seen in the stands at NBA games. 
It's also important the DNC invests in social listening and social media managers to identify viral moments online, and engage with viewers. 
Audience Needs
It's critical to focus on what a now-virtual audience needs from this event. Convention attendees often are shown wearing political swag, hats, shirts etc. Maybe savvy PR pros can create a digital version of that. 
Instead of a campaign sign, launch a banner to post across social media profile pictures. Create downloadable Zoom backgrounds for remote watch parties or sharable Instagram graphics to rally support. It's time to get creative.
Event Timing
The key to an easy flow through this DNC is to break the event into smaller parts. It's similar to what is done normally, but this needs to be even more optimized and compartmentalized.
The DNC released a schedule of speeches so the viewers know when to tune in, and many speeches are much shorter than the typical DNC saga. "The length of a typical speech, about 10 minutes in a normal year, has...been brought down to a couple of minutes or less for many speakers," the Post reported. 
The hope is that broadcasting a four-night event for two hours each night hopefully will hold the audiences' attention longer than eight continuous hours of watching—particularly if viewers are on the internet or a streaming service.
Breaks in an event can also pay other dividends. "Having a break between sessions gives people a chance to interact virtually," via social media or other platforms, according to Marisa Hernandez, field marketing manager at Cision.
Big Names
The draw for any conference is a great speaker. A household name can pull in crowds. And the DNC has no shortage of orators.
In addition to one of the most popular women on the planet and one of the most admired in America, former first lady Michelle Obama, and the always-polarizing, yet charming former president Bill Clinton, the convention is welcoming a host of up-and-coming talent, including entertainers.
Billie Elish and Leon Bridges will perform. In addition, younger, progressive political leaders like former presidential candidate Andrew Yang and Rep. Alexandra Ocasio-Cortez will speak. The variety spans far and wide for those with traditional democratic leanings, as well as newer voters, who may just be learning about the party, while coming to (virtually) party.
Nicole Schuman is a reporter for PRNEWS. Follow her @buffalogal