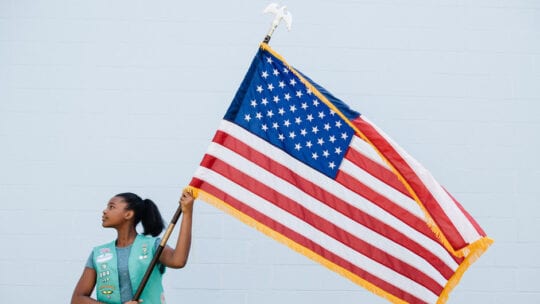 Social media followers punished the Girl Scouts on Oct. 28, after the 108-year-old organization posted politically-sensitive material on Twitter. Some found the post inappropriate, celebrating Amy Coney Barrett as the fifth woman to be appointed to the Supreme Court since 1789.
Mothers of Girl Scouts, former Girl Scouts and many others called out the Girl Scout organization on this decision, with many claiming that Barrett does not represent a woman who supports other women. 
I'm a social media manager and my advice to your social media managers is: read the room next time.

You owe every queer Girl Scout, every Black Girl Scout, every Hispanic Girl Scout, and many more an apology.

There are many ways to uplift and empower girls. This was not it.

— Kate (@librarian_kate) October 28, 2020
*Googles "How do you make your own thin mints."

— Zach Braff (@zachbraff) October 28, 2020
I was a GS for years.
I didn't see your tweet but it's a pathetic joke to equate all these women in SCOTUS. Four were pioneers. One is a handmaid. That isn't the Girl Scout way.
Time to find a new source of cookies.

— Higgs Boson (@Higgs_Boson46) October 29, 2020
As a former Girl Scout and Girl Scout mom, Thank you for removing it. Any person who's response to elevation is to then push women down, does not deserve honoring by your organization.

— 💛ann.bieg💛 (@AnnBiegelsen) October 29, 2020
For many communicators, this may have seemed like a risky content move, particularly on the heels of the approval, which has sparked such controversy from the get-go, being named quickly after the death of Justice Ruth Bader Ginsberg. 
The Girl Scouts responded with a surprisingly aggressive tweet. Both have since been removed and an apology and explanation since published. 
Hinda Mitchell, president of Inspire PR Group, found this to be a textbook example of not "reading the room."
"While I believe the original post likely was well intended in the sense of highlighting the naming of a woman to the Supreme Court, it seems clear they didn't consider the scale and tenor of the conversation that was taking place around them," Mitchell said. 
"A job of a communicator is to be able to see around the corner and anticipate what could come next. Sometimes, in our haste to be relevant in social posting, we don't pause to scan a few steps ahead to see what the outcome might be. This situation reflects that gap in thinking. This is just a place where they simply did not need to insert themselves into the dialogue – and they paid for it with a public smack to their reputation."
And it's hard to please everyone. Even after removing the post, those who didn't find it insensitive voiced their concerns.
You spineless weasels. You're supposed to empower and represent strong women and girls...and you caved into a Twitter mob of perpetually unhappy miserable leftists?

Watch me never buy a box of your overpriced, dry ass cookies again. 👌🏻

— Mindy Robinson 🇺🇸 (@iheartmindy) October 29, 2020
Disappointed with @girlscouts caving & deleting. This is the celebratory tweet for girls/women, leadership & success! Strong women pass it on! pic.twitter.com/1yRrutJ6Fa

— Jamie Murray Armin (@JamieArmin) October 29, 2020

Mitchell said the organization made the correct move, although many forget that in the age of technology, social media posts can live on forever. 
 "The removal of the post and subsequent apology was the right strategy, however, it doesn't erase the original post or its impact," she said. "Social media cannot be a marketing afterthought – especially in this charged online environment and on issues of this magnitude – it should be the responsibility of someone who has the organization's reputation top of mind, who is savvy enough to recognize where the brand voice should go, and who will see the land mines before they are stepped on."
However, there seems to be a new crisis almost every single day, so Mitchell said, while impacted, the organization should see the sentiment settle down rather quickly. 
 "There are too many other bright shiny things out there – and too many other controversies – and the Girl Scouts in the long term will not experience significant damage."
Nicole Schuman is a reporter for PRNEWS. Follow her @buffalogal