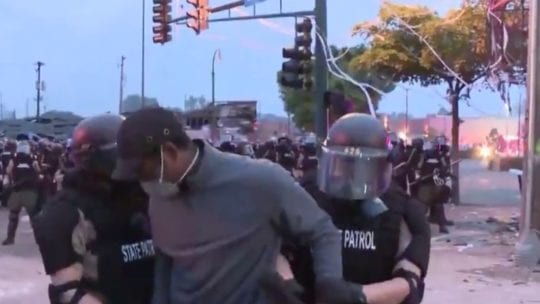 A Note
June 1, 2020: In light of the past few days, we are slowing our editorial and marketing social posts and our essay cadence today to take time to reflect on how we, as writers, communicators and marketers, can stand in solidarity with the Black and Brown communities in the fight against racial injustice and inequality.
We published the below article May 29, 2020. It seems even more important today.
In addition, we recommend an essay we ran May 26. It urges communicators to continue to build on diversity and inclusion efforts, some of which are getting lost in the midst of the novel coronavirus. As one of the authors of the essay, Angela Chitkara, said, "People are hurting. We need to take a good look at ourselves and ask, 'What kind of society and organization do we want to be?'"
Our staff wishes you health, peace and well-being today and in the tumultuous days ahead.
The PRNEWS Staff 
Minnesota governor Tim Walz practiced good crisis communications this morning. He acted promptly to own misguided actions of state patrol officers and apologized for the wrongful arrest of CNN reporter Omar Jimenez, his producer and camera crew. In addition, Walz promised, and delivered on, a quick release of the CNN staffers.
CNN communicators also acted swiftly. Prior to business hours, they issued several statements in support of arrested employees and stood up for the First Amendment.
Minnesota state troopers arrested Jimenez, who is black and Hispanic, this morning while he was on camera from Minneapolis. The bizarre scene played out during CNN's morning show, "New Day." The arrest occurred at about 6:10am EDT.
Jimenez was covering the aftermath of the third night of violent protests, looting and fires in the wake of the death of George Floyd, an unarmed black man. Floyd's detention at the hands of Minneapolis police also was caught on video earlier in the week. It has sparked protests in several cities and charges of racism.
Remain Calm
Just prior to his arrest, Jimenez can be heard telling officers during his live report, "We'll move where you want us to go…just tell us where to go…we got you." He also tells them, "We are on the air."
Shortly after that, an officer, standing next to Jimenez, said, "You're under arrest."
Still on camera, Jimenez asked the officer, "OK, do you mind telling me why I'm under arrest? Why am I under arrest, sir?" Members of the CNN crew can be heard telling police that Jimenez is a reporter for CNN.
"You're arresting him live on CNN. We told you before we're with CNN," a crew member can be heard saying in the video that was rolling on New Day.
Viewers saw Jimenez being handcuffed and led away as New Day co-anchor Alisyn Camerota told them, "You are watching our correspondent Omar Jimenez being arrested by state police…we're not sure why."
'I've Never Seen Anything Like This'
In a NY studio, co-anchor Jon Berman added that Jimenez had courteously and calmly explained to troopers that he was a CNN reporter. Seconds later Berman became emotional, saying on camera of the arrest, "As someone who has covered protests before...I've never seen anything like this."
After Jimenez was led away, still on camera, an unseen CNN cameraperson began reporting from the scene. Next, a CNN producer was arrested. Seconds later the narrating cameraman also was arrested, also live on CNN. Once he was arrested his camera was placed on the ground; it continued to capture footage. Berman and Camerota continued to describe the scene.
CNN Statement
Not long after the on-camera arrests, CNN released this statement: "A CNN reporter and his production team were arrested this morning in Minneapolis for doing their jobs, despite identifying themselves – a clear violation of their First Amendment rights. The authorities in Minnesota, including the Governor, must release the three CNN employees immediately."
Jimenez and crew were released promptly. He was back on New Day at 7:40 am. Apparently, Walz intervened quickly.
Later, Berman reported that Walz told CNN chief Jeff Zucker the arrests were "unacceptable" and he "deeply apologizes."
Minnesota State Patrol released the below statement on Twitter. As you can see, it is not an apology, though one seems in order. From what viewers saw during New Day, it seems obvious the troopers made an ill-advised arrest. You could argue Walz's quick response was a no-brainer. Perhaps. How about just a few words in the MN State Patrol's tweet saying it regretted the error. That's a no-brainer, too, and a step forward in reestablishing trust.
In the course of clearing the streets and restoring order at Lake Street and Snelling Avenue, four people were arrested by State Patrol troopers, including three members of a CNN crew. The three were released once they were confirmed to be members of the media.

— MN State Patrol (@MnDPS_MSP) May 29, 2020
CNN Retorts
CNN was upset with the state patrol group's statement.  "This is not accurate – our CNN crew identified themselves, on live television, immediately as journalists. We thank Minnesota @GovTimWalz for his swift action this morning to aid in the release of our crew."
Berman noted during the show that Gerald, a CNN photographer who was arrested, said troopers took the action because the crew had failed to clear the area. Jimenez later said the troopers were "confused" during the arrests. They treated him "cordially," he said.
CNN also said a white reporter, Josh Campbell, covering the story nearby for the network, was not arrested.
A video sparked the protests in Minneapolis. It showed a local police officer kneeling on Floyd's neck. Floyd gasped that he was unable to breathe. In the video, three other police officers are shown watching the incident. Bystanders are heard on the video saying that Floyd could not breathe. All four officers were fired but have not been charged with a crime as of noon EDT.
[Update: May 29, 2020, 2:30pm ET: The former police officer who kneeled on Floyd's neck, Derek Chauvin, was charged with third-degree murder/manslaughter. He was taken into custody.]
CNN, which has been covering the coronavirus 24-7, yesterday reduced its planned town hall about the virus from 2 hours to one hour. It used the extra hour to cover the protests in Minneapolis and elsewhere.
Walz Statement
Walz also held a press conference yesterday in response to the events. "I take full responsibility. There is absolutely no reason something like this should happen. Calls were made immediately. This is a very public apology to that team," Walz said during the presser. "The issue here is trust. The community that's down there that's terrorized by this, if they see a reporter being arrested, their assumption is it's because something's going to happen that they don't want to be seen. And so that is unacceptable."
Seth Arenstein is editor of PRNEWS