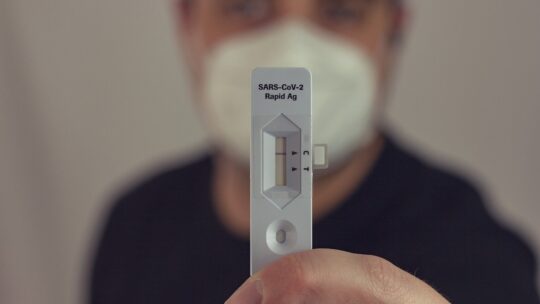 When at-home COVID rapid tests became available in retail stores in late Spring 2021, many Americans saw a tactical way of living with the pandemic. A game changer, the tests could provide the necessary clearance needed to attend events, see family and even return to work. 
Fast forward to December 2021, when the omicron variant introduced itself to the party. At-home rapid tests became more difficult to find than PS5s. Social media posters joked about finding rapid tests in their stockings, but, seriously, they became the hottest items as cases soared and holiday gatherings approached. 
And even if you can get your hands on a home test kit, the purchases add up, particularly if multiple family members or friends live within a household. Some shoppers have even reported price-gouging on the kits. 
So, today (Jan. 11), in what seemed like a reasonable tactic to alleviate some of the costs associated with purchasing rapid tests, the Federal Government announced guidelines for private insurers to cover up to eight at-home COVID test kits per month.
Nicole Cottrill, senior partner, health provider services leader at Finn Partners, says it's going to be a big job for health insurance communicators to navigate.
"The rollout of this policy will, undoubtedly, be one of the most complex things payers deal with this year," Cottrill says. "For better or worse, health plans are getting thrust into pseudo-managing public health efforts over which they control very few pieces."  
Covering Questions and Concerns
And while it seems like a good idea, questions will and have emerged. Front-line communicators will be responsible for answering the questions. For example, what about people who are not on private insurance? Only 45 percent of Americans have private insurance, according to The New York Times.  
Also, test kits are priced differently. How much will insurance cover or reimburse? The guidelines say up to $12 for out-of-network retailers, with buyers responsible for the rest. An Abbott home test averages $23.99 retail.
However, if a health plan establishes a list of in-network retailers, the entire cost is covered. But what if someone doesn't live in the vicinity of an in-network retailer? And how are those retailers chosen? 
And also, what if there is still a test shortage? Insurance companies have voiced concerns and will have to figure out the best narratives to deliver to members.
"We are concerned that the policy does not solve for the limited supply of tests in the country and could cause additional consumer friction as insurers stand up a program in just four days' time," Kim Keck, chief executive of the Blue Cross Blue Shield Association, told the Times. 
Cottrill says that while there are so many aspects of this that the payer can't control, they still need to decide on what questions to consider and have consistent responses.
Managing Expectations
Cottrill believes that while this may be a challenge, PR professionals are up to the task. She provided steps for communicators to take if tasked with guiding the public through this transition: 
Develop a core message. Payers will need high-level summaries of how they are handling test coverage and what their members need to do, as well as clear direction on what the payer cannot control, such as test availability. 
Establish a central place for information. Have one place—a section of a website or a microsite—where people can seek information, forms and FAQs. 
Be multi-channel and multi-audience. Choosing the right channel for communication is a luxury payers won't have. The pace of communication on COVID generally, and testing specifically, is fast. The payer mandate must reach as many people as quickly as possible. This will mean outreach through direct mail—likely both print and electronic—as well as all media and social channels. This outreach can direct members to the central resource site, but informing them  of the site's existence needs to be a very broad effort.
Form partnerships. Payers must consider other players members likely will contact—clinicians and employers. These sources must know where to direct people seeking information.
Nicole Schuman is senior editor for PRNEWS. Follow her @buffalogal