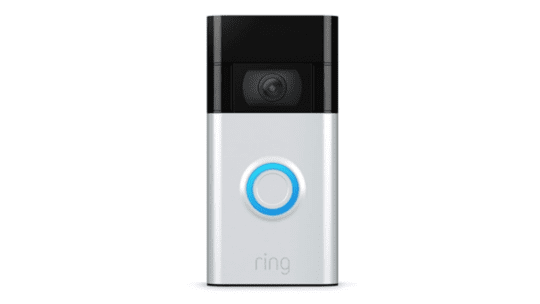 In the case of the Ring video doorbell, the doorbell may not always ring twice. Especially if it is engulfed in flames. 
This week, the U.S. Consumer Product Safety Commission (CPSC) announced a recall of Ring's second-generation doorbell, with more than 350,000 purchased in the United States. The CPSC website lists the hazard as "the video doorbell's battery can overheat when the incorrect screws are used for installation, posing fire and burn hazards." 
The CPSC also lists Ring receiving "85 incident reports of incorrect doorbell screws installed with 23 of those doorbells igniting, resulting in minor property damage," as well as eight reports of minor burns. 
As we write, Ring has yet to have a press release regarding the recall in the press center of its website, or a notice on its homepage. Information regarding the recall was extremely difficult to find on the site, discovered only after drumming down through the Help section, Shop Support and Customer Care. 
The Ring recall can prove quite daunting, as it seems to put a bit of responsibility on the consumer. Not only is support hard to find on the website, but Ring puts the blame for the fire on faulty installation, rather than on its product.  
Gene Grabowski, partner at kglobal, has managed more than 200 food, drug and consumer product recalls. Putting the consumer first in a product recall is most important, he said, and making the process as seamless as possible is pertinent. 
"The first rule of a product recall is to create a process that is as simple as possible for consumers to follow," Grabowski said. "Ring's initial effort fell short of the mark. The company is creating unnecessary confusion by telling consumers that the recall affects only doorbells attached to walls with the wrong screws. But many of the devices have been installed by contractors, not the owners themselves, creating uncertainty and annoyance among Ring customers."
Ring's public statements can also cause confusion in the case of a recall for purchasers, because as Grabowski said, Ring simply asks consumers to correctly reinstall their doorbells, rather than returning the product. 
"The CPSC, as an advocate for consumers, is likely to take issue with this approach," he said.
This puts Ring in a tough spot, particularly right before the holiday gifting season, when consumers snap up electronic goods at discounted prices. However, Ring spokesperson Emma Daniels attempted to soothe the public with a statement: "The safety of our customers is our top priority."
Regardless of the bad luck in timing, the company is doing something right by being transparent rather than hiding the imperfections before the Black Friday rush. However, will this deter shoppers from purchasing Ring's video doorbell? The clock is ticking for Ring.
Nicole Schuman is a reporter for PRNEWS. Follow her @buffalogal