Webinar
Communications Following the Roe v. Wade Decision: Messaging Corporate Positions, Maintaining Employee Connections, Adjusting Policies and Positioning Leaders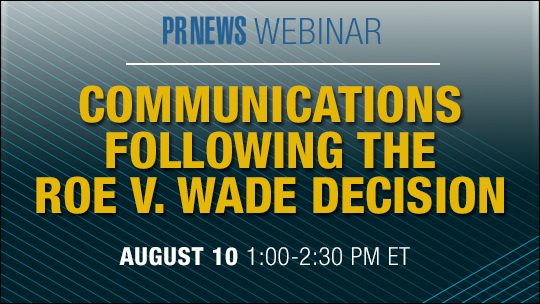 On-demand webinars are available for one year after the live webcast.
Organizations can no longer stay silent on social topics, but one misstep has the potential to create long-term reputation damage among a variety of stakeholders. The overturning of Roe v. Wade has left communicators in a state of disarray, with PR professionals struggling to align their messaging with their mission, while simultaneously balancing priorities.
What You'll Learn
How to ensure your organizational stance stands up to company values
Determining how to communicate your stance externally across a variety of platforms
Addressing current and prospective employee concerns around culture and benefits
Working with legal and HR to ensure what is communicated can actually be upheld
Communicating to consumers concerned about privacy-related issues
Who Should Attend?

If you spend at least a quarter of your time in any of these areas, you should attend this webcast:
Digital PR and Social Media
Communications
Community Relations
Content Creation
Crisis Management
Marketing Communications
Media Relations
Public Affairs/Issues Management
Public Relations
Research and Analytics
SEO
Video
Business Development
Register Now
Registration Fee: $185.00
Each webinar registration comes with access to the archived recording of the program for one year as well as the materials provided by the speakers after completion of the Webinar.
For questions regarding this webinar, contact Client Services at clientservices@accessintel.com.
If you are having any technical difficulties or need assistance meeting these requirements, please contact our Technical Support Center by clicking here.
REGISTER NOW On-demand webinars are available for one year after the live webcast.
Questions
Technical Difficulties
If you are having technical difficulties or need assistance, please contact:
Technical Support
support@bigmarker.com
View the list of complete requirements and instructions for how to access webinars here.