Webinar
Google Analytics Becomes GA4: Prepare Now for the Big Change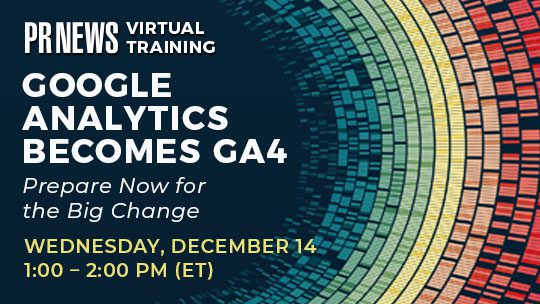 On-demand webinars are available for one year after the live webcast.
The clock is counting down to Google shutting down the go-to PR tracking platform—Universal Analytics. Say hello to GA4, a game changer for communicators and marketers. GA4 makes it easier to show how communication, especially through earned media, contributes to business objectives and helps you see how you brought potential customers into the funnel, or kept them from leaking out of it.
But there's no time to lose. It's important to activate GA4 now. To get started, join us for this exclusive session Dec. 14, 1pm ET, which will put you far ahead of the competition.
What You'll Learn
How to set up GA4 now and integrate it with existing systems
The details of GA4's Conversions Events architecture and how it can show your contribution to business objectives
How to use Analytics Intelligence
How GA4's Reporting will help you track your customers through the sales journey (even if your goals aren't sales)
How to use GA4's automated and custom insights to detect trends
How Explorations can capture insights about customer behavior
Who Should Attend?

If you spend at least a quarter of your time in any of these areas, you should attend this webcast:
Digital PR and Social Media
Communications
Community Relations
Content Creation
Crisis Management
Marketing Communications
Media Relations
Public Affairs/Issues Management
Public Relations
Research and Analytics
SEO
Video
Business Development
Register Now
Registration Fee: $149.00
Each webinar registration comes with access to the archived recording of the program for one year as well as the materials provided by the speakers after completion of the Webinar.
For questions regarding this webinar, contact Client Services at [email protected].
If you are having any technical difficulties or need assistance meeting these requirements, please contact our Technical Support Center by clicking here.
REGISTER NOW On-demand webinars are available for one year after the live webcast.
Questions
Technical Difficulties
If you are having technical difficulties or need assistance, please contact:
Technical Support
[email protected]
View the list of complete requirements and instructions for how to access webinars here.