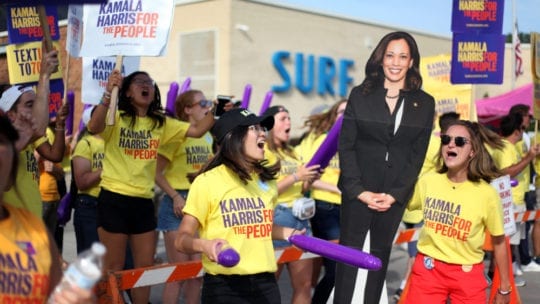 As the Democrats prepare for tonight's debate, I offer advice as a former editor-in-chief of a celebrity magazine and a current PR pro: Don't ignore American pop culture.
To capture voters' attention, the presidential hopefuls should take a page from the Kardashians, People Magazine, Buzzfeed, and even the former reality TV star in the White House.
Know your audience is a PR maxim. Having an appreciation for pop culture, and the media that covers it, will help candidates better understand their target audience: the American consumer. Knowledge of pop culture will improve communication with consumers. Pop culture also contains lessons about how they consume information.
Here are recommendations for PR pros guiding the candidates. They're also applicable to communicators managing campaigns for high-profile individuals, influencers and brands.
'All PR is Good PR'
The old adage is true, for the most part, in the celebrity and political worlds. Take the media-savvy Kardashians. Kylie Jenner channeled scrutiny of cosmetic lip injections into a $900 million cosmetics line, starting with her sell-out lip kits.
A principle of crisis PR is to own your mistakes. Democrats need to learn how to turn their lemons into lemonade and adopt the "All PR is good PR" philosophy. Rather than allowing gaffes to embarrass them, embrace them. During a debate in July, Joe Biden meant to say, "If you agree with me, text 'Joe' to 30330." Accidentally, he said, "If you agree with me, go to Joe 30330." The campaign could turn the slip-up into a positive. For example, it could sell "Go to Joe" bumper stickers and pins.
Offer Quicker Solutions
Senator Elizabeth Warren has a policy plan for nearly every issue. It's unlikely many voters have absorbed details of her proposals, though. Stick to quicker fixes – something brief that people can remember.
Every media pitching guru advocates succinct pitches. Journalists are busy. Editors are always looking for easy, accessible solutions: "Lose 10 lbs. in 10 days," or "How to find the celebrity look for less."
Consumers are busy too. Especially at the outset, Democrats need to package proposals concisely and clearly. Forget the four-year plan, even the 100-day plan; think 30 days or even the first 24 hours.
Find a Slogan That's Not About You 
We are still talking about "Make America Great Again" three years into President Trump's term. Many Democrats still reference President Obama's "Hope and Change." These slogans weren't about the candidate. They were forward-looking and spoke to a larger vision.
None of the Democrats has been able to capture the sentiment of his/her campaign in a memorable slogan. This, however, is a critically important part of reaching American voters. It can be something as simple as "Vision 20/20 for America."
Be Real
Take a look at the covers of celebrity tabloids or the latest trending list on Buzzfeed. They likely have one thing in common – they're relatable. Whether it's a story on weddings, breakups, babies or this week's funniest tweets. These outlets understand consumers gravitate to familiar, relatable and emotional topics. Authenticity anyone?
Candidates can tap into this insight by remembering that Americans aren't necessarily looking for the most "presidential" candidate. We learned that in 2016. Instead, they want someone who can communicate and relate to issues that matter to them.
Accept Being a Reality Star
Although some politicians are holding out for the old versions of debates and campaigns, it's time candidates recognize that they are celebrities – and yes, even reality stars.
Remember President Trump's debate style? While I'd never suggest throwing insults, he treated every debate as a performance. He successfully leveraged what he learned from his experience in reality TV and with celebrity media. What the Democrats' presidential hopefuls have failed to realize, which the president knew all too well, is that the American people expect to be entertained.
The candidates need to get serious media training. They need to start thinking about the debates as performances and themselves as entertainers. Maybe then more viewers will be able to stay awake watching them.
Mark Pasetsky is founder/CEO, Mark Allen & Co. He was editor-in-chief of Life & Style and managing editor of OK! Magazine.