This week, Discovery Communications ran a 30-second ad honoring the one-year anniversary of George Floyd's death, May 25. "One year ago, we witnessed moments that started a movement," the ad begins. "While there is still work to be done, we still look ahead with hope."
Discovery is not alone in marking the one-year anniversary since former Minneapolis police officer Derek Chauvin killed Floyd. Media organizations in particular are seizing on the opportunity to make a statement.
Oprah Winfrey's OWN TV network is partnering with Procter & Gamble to present a one-hour "Widen the Screen" special to mark the anniversary.  It features "new content by Black creators that celebrate Black stories and the expansiveness of Black life, while honoring the anniversary of the tragic murder of George Floyd," a press release says. Winfrey and Discovery co-own the OWN TV network.
Media organizations lead the pack
BET's three-part series features Black musicians, diplomats and civil rights luminaries. (BET parent ViacomCBS and BET's $25 million Content for Change initiative, launched last June, funded the series.) BET's chief social impact and communications officer Jeanine Liburd noted the importance of continuing this work.
"As our community demands accountability in the wake of the tragedies that occur entirely too often, BET will continue our frontline coverage that shines a light on those in positions to affect change. We will continue to use our platform in a way that makes it clear: that even as time passes, we will not be moved or discouraged. We will continue our charge forward in the fight for social justice," Liburd said.
Similarly, in regards to the OWN special, a statement from P&G chief brand officer Mark Pritchard read, "One year after George Floyd's death, which changed the world, we've come together to honor his life and to give voice to Black creators as they build a legacy of hope with their stories that portray a more complete view of Black life—one that is layered, beautiful, vast and dynamic."
Every organization is accountable
No company has an excuse to sit out this moment, says Dwayna Haley, EVP and North American Growth Lead at Porter Novelli.
"All brands, no matter the sector or industry, should be prepared to externally acknowledge and honor this moment in our country," she says. "This is an opportunity to communicate your values, revisit commitments made during the aftermath of the tragedy and articulate additional commitments moving forward. Silence on the matter is tone deaf and unacceptable."
The memorial is playing out nationally and locally: President Biden invited the Floyd family to the White House for dinner Tuesday. In South Minneapolis, Floyd's hometown, family and friends planned a full-day memorial celebration. California's Pacific Symphony will stream the world premiere of "Alone Together," a composition commissioned to commemorate Floyd and address the systemically racist and emotional impacts of the last year.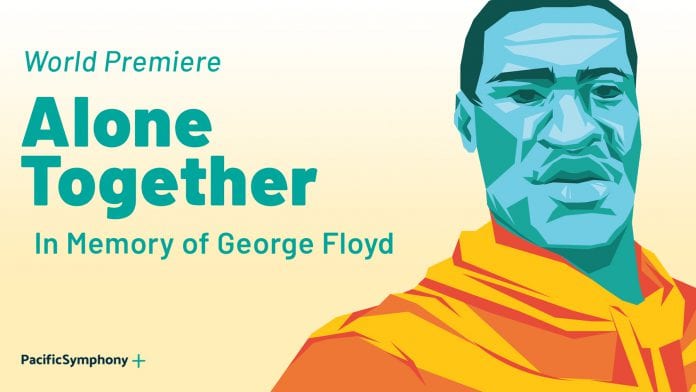 Curious silence from Billboard
On the brand side, while some organizations may be holding their tributes until the 25th, this year's Billboard Music Awards—at which Black artists including Drake, The Weeknd and late rapper Pop Smoke took home top honors—surprisingly did not mention the one-year anniversary. Notably, Change Maker Award winner Houston rapper and activist Trae Tha Truth ended his acceptance speech with a call to action for police accountability: "We still gon' need justice for Breonna Taylor."
Yet, country star Morgan Wallen, who faced intense scrutiny after being caught on camera using a racial slur earlier this year, won three awards. (The producers banned Wallen from performing or attending, but said they could not prevent Wallen's wins due to the judging criteria of sales and streaming numbers.)
Wallen's wins speak to a sticky reality in an era of publicized racial justice initiatives: While some brands are willing to make a commitment to fighting systemic racism, not all audiences are making purchasing decisions based on those moves.
Infuse internal communication with empathy and check-ins
Whether or not your organization makes a public facing statement, it is crucial to remember one of the year's biggest DEI takeaways: Change starts from the inside. Whether or not your company has invested significantly in diversity, equity and inclusion (DE&I) or lent its voice to the racial justice movement, it is of paramount importance to communicate empathy and understanding to your employees of color, says Haley.
"The anniversary of George Floyd's death and the vicious cycle of violent imagery sure to be played during the day across channels will evoke deep pain," Haley reminds internal communicators. "This is a moment for organizations to prioritize humanity. Check-in with your colleagues and let them know you're there for them if needed. If they need a moment to collect themselves, give them the freedom to process without exacting punitive damages for their lack of connection during this time," she advises.
Acknowledge the setbacks
What if your company wants to acknowledge the anniversary of Floyd's murder, but hasn't made much progress on its DEI goals since last year? Haley points to Porter Novelli research that shows employees and consumers aren't expecting perfection, but rather a commitment to "close the Say/Do gap."
In a study conducted last month of 1,000 Americans 18-plus, 76 percent said "a company doesn't have to be perfect when talking about social justice issues, but it should be open and honest." Furthermore, 73 percent "value humility and honesty over perfection when companies talk about social justice issues," the study found.
Speaking up on social justice is not a special event
If May 25 is too short a deadline for you to put a meaningful JEDI (justice, equity, diversity and inclusion) initiative in place, Porter Novelli's data indicates you should not give up. Justice-focused communication should not be a special event, but rather the norm. Porter Novelli's study found that 69 percent of respondents said "it shouldn't take a tragedy like the murder of George Floyd…to prompt companies to make a statement."
Some consumers—and job hunters—continue to make purchasing and employment decisions around company values, and the trend shows no sign of slowing. Below, the channels that audiences are most likely to watch for demonstration of racial and social justice commitment.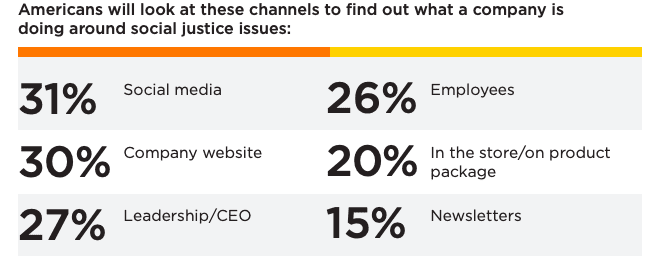 Sophie Maerowitz is senior content manager for PRNEWS. Follow her @SophieMaerowitz