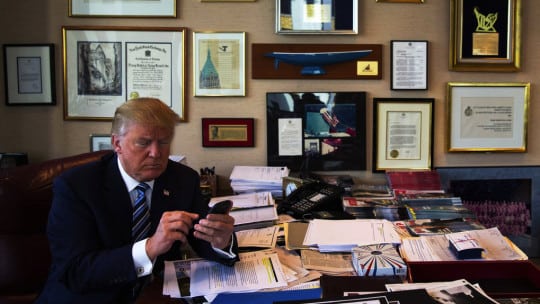 Earlier in the week we took a look at the woman behind Hillary Clinton's social media accounts; now we'll see who's behind Donald Trump's social success as we continue to look into the strategies and individuals behind the online presence of those vying to become the next president of the United States.
Despite the controversy, naysayers and fierce competition within the Republican Party, Donald Trump succeeded where many thought he would fail. There's plenty of speculation as to how the mogul/reality star/presidential candidate secured the Republican nomination for president, but one thing's an undeniable fact—Trump's Twitter presence has been a major factor in his success from day one.
Trump's use of Twitter has often influenced entire news cycles, and his proclivity for the platform is well known—often tweeting 10 times a day, once as many as 59 times in a single day. One of the strongest aspects of his strategy on the platform is the frequency of his retweets. This is a classic tactic for building communities on social networks. Every PR pro knows that one of the best ways to develop a following is to shine the spotlight on fans by acknowledging them as valuable members of the community.
But the question remains: Is Trump actually the person behind his famously contentious Twitter presence?
Donald Scavino, director of social media for Donald J. Trump for President, told CNN that unlike many in the public eye, Trump doesn't run his tweets by anyone. Scavino often finds out about a new tweet only after he gets a notification about it on his phone.
However, often Trump isn't the one pushing the post button. If he's in New York City or on the road, Trump will often dictate his tweets.
But Trump is also known to be a late-night tweeter, often posting until the wee hours of the morning. Those tweets, according to Scavino, are all Trump. Trump will sit in his hotel room on the road or back in New York and retweet his supporters' praise as a form of thanks.
According to an investigation by Mother Jones, the truth behind Trump's Twitter account isn't that simple.
After analyzing the account's data, Mother Jones found that by breaking down where the tweets came from—iPhone, Blackberry, Android or desktop—it's likely that around 3% of his tweets actually come straight from Trump's fingers. But this isn't all that shocking; after all, there aren't many in the public eye, especially politicians, who personally post everything to their social media accounts.
The fact is, whether his tweets are dictated, posted by the man himself, or put up by another staffer, every single one has the characteristic voice and style that's made Trump a political heavyweight. And that's an incredible success in and of itself.
After all, Trump is no newbie when it comes to PR. Since his campaign's inception he's generated enough free coverage to make even the most heavy-hitting PR pro blush. Trump's fervent following is proof of his PR savvy.
And for those who think that his tweets should be edited for spelling and grammar mistakes, or that his message should be less negative or combative, Trump has a few words for such unbelievers, courtesy of a profile from New York Times Magazine: "Don't tell me how to [expletive] do PR."
Follow Mark: @MarkRenfree