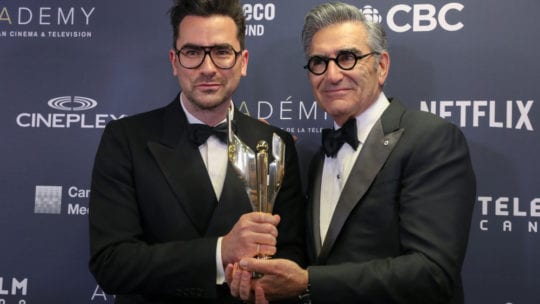 I love Schitt's Creek. Perhaps you watch the series too. Due to intense fandom, and its binge-ability on Netflix, the comedy on Pop TV has become the little Canadian show that could. It's in the running for four Emmys this Sunday (Sept. 22), including Outstanding Comedy Series.
After the Emmy nods were announced during the summer, Vulture wrote about how shows on smaller networks were able to secure a few nominations, though they competed against series from larger, deep-pocketed broadcasters, not to mention HBO, Netflix and Amazon.
A sentence from the article caught my eye: "In the case of Schitt's Creek, Pop TV marketing and publicity execs sought to maximize the effectiveness of free media such as talk-show appearances and magazine covers."
Earth Shattering. Not.
Utilizing an earned media strategy is not an Earth-shattering concept. Yet it is interesting that earned media was called out for its simplicity and cost-effectiveness. Go get free press.
Hyper-targeted paid social and programmatic campaigns that control messages and get instant impact are today's "hot" tactics. In contrast, investing in earned media is time-intensive and laborious to get off the ground.
Certainly there are situations where a paid campaign is the right button to press. From a pure awareness play, though, the Schitt's Creek example showcases the power of old-fashioned earned media and media relations.
Schitt's Creek tapped into two elements of why earned media remains vital and effective:
The importance of third-party validation
The ability to amplify it effectively
The PR and marketing teams behind Schitt's Creek knew that fans loved the series; however, they needed media outlets to validate that fandom for Emmy voters, industry executives and media influencers.
Dan Levy (pictured above, left, with his father Eugene Levy), who stars as David and is also a co-creator of the series, was featured in Esquire and on the E! site. In addition, Ellen and Stephen Colbert had him on their shows. This was a fraction of the press garnered between April and July 2019.
Good to Great
Where Schitt's Creek took a media relations campaign from good to great is how its PR team strategically amplified content that appeared in mass and trade media. The teams made certain that cast, crew and fans could share articles, clips and other snackable content. The target, of course, was the Emmy voter. The noise that resulted apparently influenced voters to consider the series. It's not coincidental that many of the media hits were timed to drop during Emmy voting season. Good strategic work from Pop TV.
"While grassroots support might not have meant much to Emmy voters ten or 15 years ago," Vulture wrote, "in the age of social media and dozens of entertainment-news websites…bottom-up Emmy campaigns today actually have a chance of working."
It helps when the product is as satisfying as Schitt's Creek, of course. That's the origin of the organic fan buzz.
Vulture continued, "Thinking smartly about the intersection of fan culture and media (both traditional and online) doesn't cost a lot of money, and it may help level the playing field, at least somewhat...."
Deep Pockets
Traditionally, large TV networks fill the trades with ads promoting their Emmy-worthy projects. Eye-catching, costly billboards along Hollywood's main routes are another traditional marketing tactic during Emmy season. Budget considerations pretty much exclude Pop TV and other small networks from deploying these tactics.
Not only was Pop TV outspent in its marketing and PR efforts for Emmy considerations, it's nowhere in sight in terms of money spent on TV talent to garner an Emmy nomination. In other words, how much does it cost to create and actualize a show per Emmy nomination received?  As you see, the list of cost per Emmy nomination, from The Motley Fool, doesn't mention Pop TV, which spent far too little to be included:
Netflix - $120 million per nomination
Hulu - $125 million per nomination
Amazon - $106 million per nomination
HBO - $16 million per nomination
Though media relations might not be the hip new strategy that utilizes technology and analytics to segment and target audiences down to the most finite detail, it is a smart and economical strategy that even Alexis Rose Communications can get behind.
Michael Adorno is VP, communications at Hot Paper Lantern