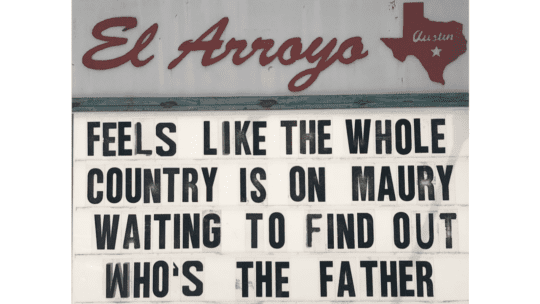 Unless you've been living on Mars with no access to a livestream of Earth, there's no denying that American's emotions run the gamut right now. Many citizens' stress levels, due to an elongated presidential election, have hit their peak. However, when things get tough in the U.S., some of our best and brightest creative coping mechanisms come through. 
Laughter is the best medicine for tense times, and social media is providing some of the most hilarious election memes, tweets and videos for comfort. 
But brands need to take caution, and make sure they use the correct tone. The Gap released a seemingly innocent-enough post yesterday, featuring its iconic sweater, zippered up with one side red and one side blue. The post declared a statement of unity. But the public was not having it. Particularly since the country was so far away from having the race called. 
The post has since been deleted. 
So, take a minute and have a chuckle with some of the funniest social media posts we've seen today. We all deserve it. 
[And just an FYI: Some of these contain strong language and may not be safe for work...unless you are working from home, in which case, enjoy!] 
Austin Tex-Mex restaurant, El Arroyo, never fails to deliver with its tongue-in-cheek signage.
View this post on Instagram

Americans have turned President Donald Trump's plea to "Stop the Count" into a love letter for an old friend.
This guy is obviously a threat to American Democracy! #STOPTHECOUNT pic.twitter.com/v7b4XvfGy1

— Max Little (@MaxLittle92) November 4, 2020
The real social media winners can be found as the country's frustration with Nevada's slow vote count grows. 
— JohnDoe🇺🇸 (@Spacemonkey956) November 5, 2020
Nevada counting ballots pic.twitter.com/GC85ZFZdMd

— Liz Jenkins (@ej11lizzie) November 5, 2020
— Jessica Valenti (@JessicaValenti) November 5, 2020
Live footage of Nevada working on those ballots pic.twitter.com/14RrZ2Ce8w

— Miss Cuffy, Unstable Genius🥃🔥 (@MissGFYCuffy) November 5, 2020
Philly fanatics seem to be taking the Pennsylvania vote counting speed in stride. 
We now go live to Philly this morning: pic.twitter.com/A6xhABERg1

— Jacqueline Antonovich (@jackiantonovich) November 5, 2020
Aside from vote counting, many folks are acknowledging the unavoidable distraction from work... 
Me today pic.twitter.com/kNE4v8Xx0k

— Brad Sams (@bdsams) November 4, 2020
...and their need for comforting sustenance.
today falls in category 3 https://t.co/JF2u3JCyHD

— Meg Graham (@megancgraham) November 3, 2020
But amid all the 2020 chaos and the election woes in America...
I never thought it would be possible to describe 2020 in one minute, but this is pretty close pic.twitter.com/sjFDKbYPaL

— Laura Martínez® (@miblogestublog) November 2, 2020
The rest of the world watches, providing support and hoping for a peaceful outcome. 
Amazing Grace 🇺🇸 from across the Atlantic on the west coast of Ireland pic.twitter.com/b9wOiNZmwA

— Patrick Dexter (@patrickdextervc) November 3, 2020
Nicole Schuman is a reporter for PRNEWS. Follow her @buffalogal