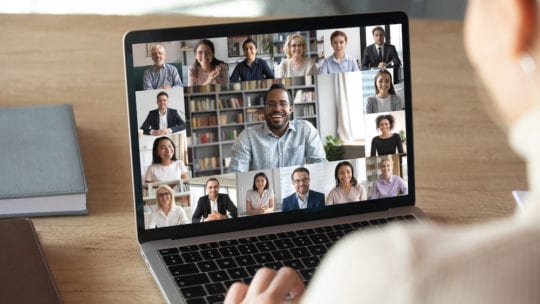 How do you keep employees involved and creatively pushing boundaries in the middle of a pandemic?
After discussions with CEOs and executives it's clear that a leading concern is the same as it was 12 months ago, at the pandemic's start: How to keep employees engaged after months of isolation.
Beyond the obvious challenges of maintaining a healthy, productive workforce amid a global crisis, many CEOs struggle with sustaining a culture of innovation in a largely remote world. It is an unquestionably difficult hurdle with a nearly or fully remote workforce.
For most, connectivity isn't an issue. Nearly 94 percent of U.S. households have access to broadband Internet, and work tools like Zoom, Slack and Microsoft Teams.
Finding Togetherness
What is missing is a sense of togetherness. Without chance meetings by the water-cooler or the organic exchange of ideas over coffee, the creativity and connectedness that drive the communication business and fortify corporate ethos have become increasingly difficult to sustain. Consider that 65 percent of employers say maintaining morale is challenging, according to a new survey from the Society for Human Resource Management.
And while we can't forcefully manufacture these experiences, companies are working to reimagine their businesses, counting on the creativity of employees to help drive growth and maintain customer focus. Below are steps to spark thinking and connecting: 
Make Employee Wellness Paramount 
With lockdowns, limited in-person social interaction, constant screen time and, for many parents, remote learning, employees' well-being–and in particular, their mental health–has taken a significant hit.
Employee mental health and well-being have dropped a staggering 33 percent since the pandemic began, according to a survey from Hibob. More than three-quarters of parents with children ages 8 to 12 say uncertainty around the current school year is causing stress. 
To foster a culture of innovation, leaders must ensure they are promoting the mental well-being of employees. This means leading with adaptability, empathy and kindness–and considering work opportunities that help assuage mounting employee stress.
To this end, some companies are embracing a hybrid work model–while others are offering benefits like mediation apps and virtual therapy. Either way, it is essential to address this struggle, or turnover will increase while productivity takes a hit.
Encouraging Engagement 
While Zoom calls offer slight respite from the social isolation of WFH, they don't always encourage participation from all employees. And while activating video and eliciting opinions can help, encouraging engagement while remote can remain a challenge.  Some have even pointed out that isolation and the hyper-connectiveness of constant Zoom meetings actually are generating more stress and anxiety, particularly amongst the younger employee base.
Some companies are utilizing new platforms, like Gather.town, Kumospace,  Pluto, Hopin and Run the World for online meetings and gatherings. These use dynamic, interactive design elements, like virtual maps, to encourage involvement. 
Establishing strategies that avoid the 'drift' we sometimes feel when working apart, offering more tools for innovation and encouraging space for brainstorming and sharing ideas collectively will help reinforce a culture where collaboration is valued over bureaucracy.
Invest in Tools for Training and Development 
How do you break patterns that staff have followed for years to meet the changing market? As more companies transition to near or entirely digital operations and leverage new technological tools to manage pandemic logistics, it has become critical that employers double-down on training and career development, even while remote. This ensures employees can engage with and adapt to new tools and platforms in real time.
This investment is important not only because it requires a new mindset in developing skills, capabilities, business and pricing models, but also because it influences how you sell, test products and innovate.
However, even before the pandemic, many companies lacked a cohesive re-skilling strategy: At the start of 2020, only one in five talent leaders said they were providing training and re-skilling opportunities.
Encouragingly, 60 percent of workers feel they've learned necessary skills for adapting to the pandemic, according to Randstad's new Workmonitor survey. This is important since a recent McKinsey survey finds that companies are three times more likely now than before the pandemic to conduct customer interactions digitally.
When we emerge from the pandemic, we will need to think differently to be able to bounce back stronger. Encouraging engagement, prioritizing employee well-being and investing in training tools can ensure companies are on the path to growth while also fostering a formidable culture of innovation. 
Kathy Bloomgarden is CEO, Ruder Finn