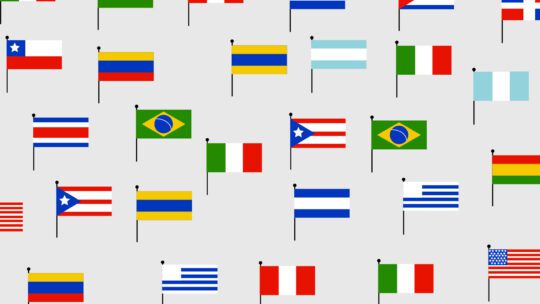 As we know, diversity has become a topic in the public square. Many companies realize the full force of implementing diverse, equitable and inclusive policies. As Latinos conclude celebrating Hispanic Heritage Month this week, emphasizing representation is as relevant as ever.
In 2020, we looked at how to use diversity, equity and inclusion principles to bond PR and Hispanics. As communication professionals, one of our jobs is creating platforms for the underrepresented to tell their stories. When Hispanics see themselves represented, they feel properly epitomized.
More than 60 million Latinos (20 percent of the U.S. population) hail from various countries, with different cultures, heritage, customs, traditions and consumption patterns. Each brings a unique flavor to storytelling, which can entice audiences of all backgrounds.
PR parlance: Latino or Latinx?
U.S.-born Latino youth, who within the last decade experienced the fastest population growth, consider themselves Latino. They remain eager to embrace their heritage, even though their acculturation and speaking levels are predominantly English-leaning.
In recent years, the term Latinx has become controversial because of its exclusive use in the U.S. and lack of inclusivity. Latinx is a gender-neutral word identifying men, women, and LGBTQIA+ people of Latin American lineage.
Latinx is one of many broad labels trying to describe a large, diverse community. Its use will forever be up for debate. But it's best to avoid using it unless you're addressing younger individuals who are pro-gender equity.
Remote work and multicultural communication 
It's been almost two years since the COVID-19 pandemic started. The corporate landscape certainly has changed. Remote work is likely here to stay, and the emergence of a hybrid workplace is making itself known. It's uncertain whether this will increase or decrease the organizational challenge of establishing more effective multicultural communication, especially among Hispanics.
A media backslide
The prominence of multiculturalism in media is very noticeable. But it's been painfully slow. Moreover, there are signs that brands are returning to an earlier mindset, with Hispanic outreach minimized yet again. Eliminating multicultural strategic efforts leads to messaging that's generic and general.
Leadership, transparency and research
Whether for internal or external communication, organizations need to have cognizant, transparent voices in positions of power. How to do that? Through research, where brands learn what motivates audiences. In addition, research will help you provide trustworthy and reliable information and toward the best mediums to transmit messaging.
Welcoming tough conversations
In this COVID era, companies must embrace having complex, frank and open discussions, especially around colorism, race, representation and culture. Welcome them. Facilitating transparent dialogues can only strengthen perspective.
Building internal and external platforms for the underrepresented can shape the direction of multicultural communication. There is no need for corporations to be fearful. Open forum procedures will make it easier for Latino employees to speak up and help organizations amplify inclusive viewpoints.
During Hispanic Heritage Month, the role of diversity within multiculturalism plays an integral role in how we balance our roots with an evolving society. Investment is key. It's important to continue conversations and pave pathways.
Ser un leal aliado. (Be a loyal ally.)
Yesenia Reinoso is founder & principal, Y Communicate. Follow her: @y_communicate