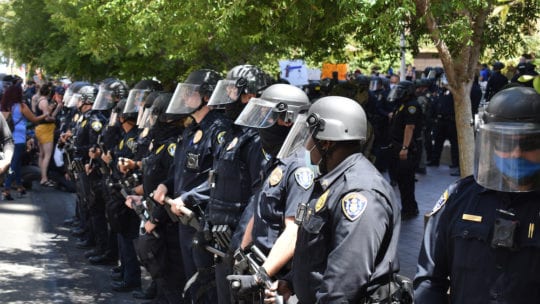 From gender politics and environmentalism to Black Lives Matters and Me Too, social activism in 2020 forced businesses and brands to evaluate how they position and market themselves. For many luxury brands, this is uncharted territory.
Whereas mass-market brands remain relevant reinventing themselves and following the day's social trends, luxury brands pride themselves on being classic entities that stand the test of time. Wholesale social upheaval, therefore, presents an issue for them. So, what can they do to navigate today's modern marketing minefield?
To a degree, high-end brands once enjoyed the luxury (no pun intended) of ignoring man-in-the-street issues. Yet the strength and intensity of social activism today means even the luxury bubble is penetrated. Today, no one is immune. Luxury brands can't afford to do nothing.
While many luxury brands responded quickly to George Floyd's death, fashion was criticized in many quarters for being too slow. A number of high-profile models called out the industry. This left many brands exposed and on the back foot. The first lesson, therefore, is that silence isn't an option.
Words and Action
It isn't, however, just a case of responding per se. The way luxury brands respond and position themselves to social change is just as important as acknowledgement itself.
Similar to other companies, luxury brands have to be incredibly sensitive, and aware. There's little worse than being seen as reacting to social change in a wooden, insincere or knee-jerk fashion. Countless luxury brands in recent years have been criticized for paying insincere lip service to social causes through social media and fluffy statements. Critics call them out for lacking ethnically diverse senior leaders. Ditto for failing to address their sustainability and environmental impact.
Brands, including luxury properties, can't simply say something. They must market themselves as doing something–be it guaranteeing better minority representation on their boards, donating to social causes or joining industry environmental initiatives. Lip service alone won't cut it.
From a marketing perspective, luxury brands also can't be seen as capitalizing upon or taking advantage of mainstream social issues.
In or Out of Touch?
Take COVID-19 as an example. Many people are experiencing financial uncertainty and other difficulties. Luxury brands need to be cautious and sensitive. They need to be emotionally intelligent and can't afford to be seen as out of touch.
In essence, luxury brands shouldn't look like they're capitalizing on COVID-19 misfortune by overly positioning their products as an emotional escape during a tough time. They have to be more discreet and subtle, and can't be seen as opportunistic.
Rather, luxury brands should focus content and marketing on making people feel good about life. The message is that there is a brighter, more positive and aspirational future. In addition, remind us of positive life values.
Gucci hit the nail on the head with GucciFest, which is subtly placed on normality. Some of its films were based around an everyday event, such as going to a café–a basic comfort that brings reassurance during troubling and uncertain times.
Ultimately, luxury brands that market themselves as in touch with social issues demonstrate real commitment to change. They avoid the trap of capitalizing on social instability to shallowly sell product. Luxury brands that demonstrate a lack of social consciousness, fail to pivot and overtly push their will often quickly see their marketing campaigns fail to resonate and their reputations fall flat.
Lewis Hackney is founder of Etch'd