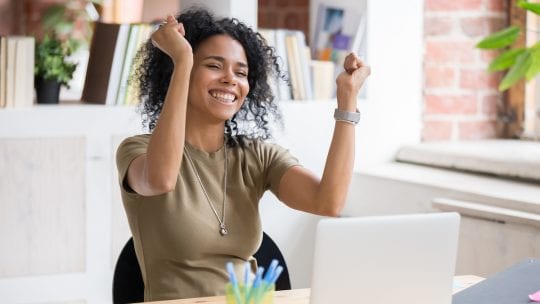 A new survey shows employment in the communication industry trending upward this year. While three quarters of those surveyed said headcount was reduced in 2020, 63 percent said their companies plan to expand staff this year. Search and recruiting firm Capstone Hill Search will release its report, "The Impact of the COVID-19 Pandemic on Employment in the Communications Industry," tomorrow (March 31).
Capstone polled senior communication and PR executives from Fortune 500 and leading public and private companies around the world.
"Business has been universally impacted by the coronavirus pandemic, and while the impact on communications employment during 2020 was very broad, it appears that it was not as deep as many predicted," Jeremy Wrench, Capstone's CEO, said in a statement. "The market is also indicating strong confidence that recovery and growth are returning quickly in 2021."
Revenue and Hiring
Much of this news comes from a surprisingly good 2020. While 75 percent indicated a reduction in 2020 revenue, almost half said revenue was off 10 percent or less. And 25 percent of businesses did not report a negative impact on revenue. Only 13 percent suffered a significant drop of more than 30 percent versus the previous year. 
This bodes well for hiring, as 58 percent of businesses surveyed continued to hire in 2020. And 28 percent reported rehiring as of Q1 2021. More than two-thirds of employers intend to rehire furloughed employees.
Many organizations are considering expansion, as 46 percent of those surveyed intend to increase headcount 10 to 20 percent next year. And another 17 percent look to increase staff even more, by 20 to 40 percent, during the next 12 months. 
And because they've been so successful, remote work programs will continue or expand in 78 percent of businesses. This will encourage a greater talent pool and provide flexibility for current employees. 
"The optimism indicated in the survey's findings mirrors the resurgence in demand we're seeing from the industry, albeit with significant shifts in the acceptance of remote and contract workers," said Matthew Ver Bruggen, president, Capstone Hill Search.
A Crisis of Confidence
However, not all the survey's findings are positive. Employee confidence remains an issue. Forty-five percent of those surveyed named job security as their greatest concern. Another 45 percent expect a salary reduction. Only 6 percent of mid-level workers anticipate small salary increases.   
This may cause issues for employers seeking candidates, as workers may be hesitant to make a jump or change jobs. Capstone Hill said survey data and anecdotal evidence suggest "demand is outstripping supply of talent willing to transition roles." 
But this negative spin can be a silver lining for those seeking work. If you are searching for a new gig, it seems to be a truly buyer's market, as all cards are on the table for potential employees.
Nicole Schuman is senior editor for PRNEWS. Follow her @buffalogal