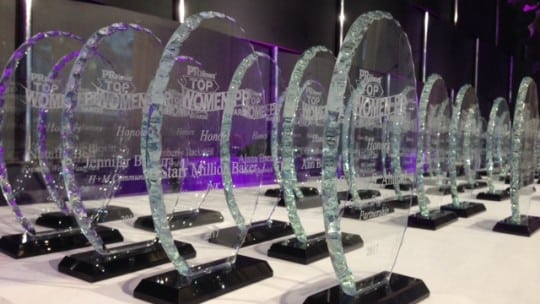 Each January in New York, PR News shines a spotlight on women who not only are best in class in PR and brand communications, they are leaders and team builders who continue to inspire the next generations of women to rise to the C-suite level at brands, nonprofit organizations and agencies. On Jan. 24, 2017, PR News once again celebrated the Top Women in PR at the Manhattan Ballroom at New York's Grand Hyatt.
The winners of PR News' 2017 Top Women in PR Awards span a wide variety of organizations, from Visit Norfolk, Peppercomm, Weber Shandwick, Aflac and Cisco, to Mars Petcare US, NYU Langone Medical Center, Fannie Mae, Havas PR Milan and Bank of America. (See all of the PR News Top Women in PR Award winners.) At the Jan. 24 luncheon in New York, the Top Women in PR honorees inspired their peers and families with their thoughts on how to attain work/life balance, leadership qualities they have long admired in other women and personal and professional challenges they've set for themselves this year.
Many of the honorees told the audience of nearly 300 communications professionals what advice they would give their 20-year-old selves. Here's just a sampling:
"If you don't ask for it, you won't get it. Go out there and get it." --Liz Torrez, Hill+Knowlton Strategies
"Always be bold and believe in yourself." --Mary Simms, Mary Simms Public Relations Agency
"Play the long game and don't look for shortcuts. Enjoy the journey." --Amy Lyons, SHIFT Communications
"Be the person everyone wants to work with and ultimately you'll be the person everyone wants to work for." --Catherine Hernandez-Blades, Aflac
"Always be open to different paths." --Lisa Campbell, Mars Petcare U.S.
"Being a bad-ass is a good thing." --Kimberly Blackwell, PMM Agency
Attendees also heard a keynote presentation from Maya Nussbaum, founder and executive director of Girls Write Now, which mentors underserved young women to find their voices through the power of writing and community. Joining Nussbaum was Girls Write Now mentee alumnus Natalia Vargas-Caba who, through the help of her mentor and Girls Write Now, was accepted at Sarah Lawrence College on a full scholarship. Vargas-Caba's tale of her path from a tough high school in the Bronx to beginning a career in publicity hit home with attendees at the Grand Hyatt.
Joining PR News' editorial staffers on the podium were guest co-presenters Bridget O'Neill of Elizabeth Arden, Jennifer Christie of ESPN and Danielle Meister Cohen of Samsung Electronics, all of whom were among PR News' 2016 Rising PR Stars.
See profiles of all of PR News' 2017 Top Women in PR.
Follow Steve Goldstein: @SGoldsteinAI