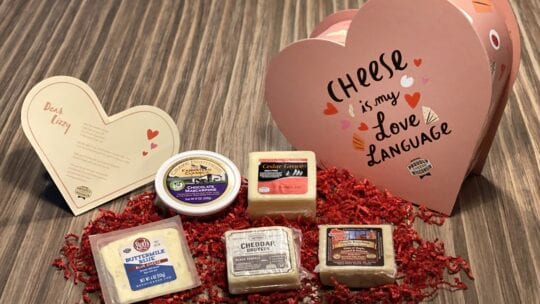 [Editor's Note: The PRNEWS staff encounters many examples of brand communication.  We compile assessments of some of the best and not-so-great examples. Our intent is to provide a learning experience about what works or doesn't. You can find previous examples here. In this Valentine's edition, we examine some of the sweetest brand campaigns.]
Sophie Maerowitz, senior content manager
OkCupid's Relationship-Diverse Valentine's Cards: A 
This year, dating app OkCupid has released a bevy of unconventional and risqué e-cards for their audience to share with friends, significant others and everyone in between. The effort plays on e-card nostalgia, offers visibility to the group of artists recruited for the campaign, and reflects OkCupid's "everyone is welcome here" inclusivity mission. The NSFW nature of many of the card graphics means we can't describe most of them here, but for those not actively writing for an industry trade publication, the cards are instantly available to download and share via Instagram, text or email. If only every corporate media center made it so easy for reporters to nab visual assets! (Conflict of interest alert: This writer met her husband on the app nearly a decade ago.)
Nicole Schuman, senior editor
Wisconsin Cheese's Special Delivery: A
Who doesn't love a Valentine heart full of chocolates? Wisconsin Cheese, the marketing arm for The Dairy Farmers of Wisconsin, created its own version featuring an incredible bounty for cheese enthusiasts. Its campaign, "For the Love of Cheese" asked fromage fans to nominate and surprise the cheese lover in their life (possibly even themselves) to receive one of 500 limited-edition gift boxes from Wisconsin, The State of Cheese. The boxes, branded with the slogan "Cheese is my love language," included a selection of five specialty Wisconsin cheeses, crafted by multi-generation cheesemakers. And not only would the recipient be showered with delicious cheddars and chocolate mascarpone, the heart-shaped box also included a personalized cheesy poem as well. Love conquers all, and who doesn't love cheese? This campaign delivered on everything it promised. 
Seth Arenstein, editor
National Confectioners Association's Pitch: A tasty B+
 A basic tactic in media relations is to make sure your message stands apart. In that sense, the National Confectioners Association (NCA) may have an advantage, especially near Feb. 14. One of its communicators, Carly Schildhaus, got to send this pitch: "Chocolate and Candy to Play Central Role on Valentine's Day 2021." Even if candy's not their beat, few journalists can resist, er, biting. And the pitch has sweet data: 86 percent of Americans say they'll share a gift of chocolate and candy this Valentine's Day. And, though Forrest Gump's mother said, "You never know what you're going to get" in a box of chocolates, NCA data says half of us want to know and use 'maps;' just 31 percent pick a chocolate randomly. And, hey, who says chocolate and candy are bad for you? In moderation they're not. Most of us partake of chocolate and candy "2-3 times per week," NCA says, averaging just 40 calories/day and one teaspoon of added sugar. And then there's NCA's Valentine's Day Central site, loaded with tidbits about the holiday's origins (it's quite a story), the first literary reference to it (the well-known PR pro Geoffrey Chaucer, in 1382) and this nugget: in the 1800s, doctors prescribed chocolate to calm nerves and mend broken hearts. Those were the days.   
Erika Bradbury, editorial director
Slapping pink on your product to get in on the holiday (Kraft): F
Tying it back to a charitable cause (Skullcandy): A
 Many people already think Valentine's Day is just another gimmicky holiday, and that too many brands come out with limited-edition products in shades of pink and red to get the most out of the holiday. (Does anyone really need sweet, pink macaroni and cheese, Kraft?) But as more and more consumers demand that brands take a stand on social issues and embrace corporate social responsibility, those brands that provide limited-edition products for a cause, like Skullcandy, raise the stakes—whose Mood Boost collection benefits To Write Love on Her Arms, a non-profit movement dedicated to presenting hope and finding help for people struggling with depression, addiction, self-injury and suicide. It is critical, though, that communicators ensure the  message is authentic to the brand narrative.