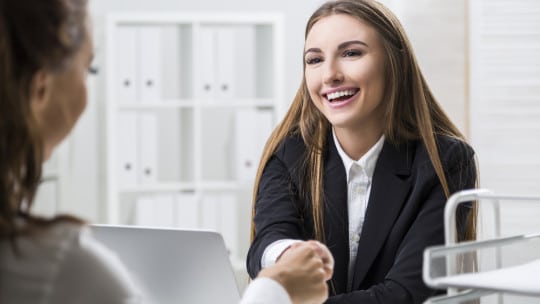 It's that time of year again: Spring is in the air and so are graduation caps. Recent college graduates looking to enter the communications field will face the challenge of their first round of interviews, rife with think-on-your-feet moments.
Whether you're just graduating or have a friend or family member entering the PR workforce, here are six interview prep tips for aspiring PR pros.
Make sure your web presence impresses—and be ready to talk about it. Social media profiles scatter traces of our identities throughout the online universe. That said, it's crucial for recent grads to Google themselves (in Incognito mode) and make sure to de-tag or take down any wild party selfies or otherwise unprofessional images. On the plus side, if the first page of search results denotes a specific hobby or passion outside of the PR realm, great! Be ready to talk about how you can tie those passions and skills into your work as a communications practitioner. For instance, if your interviewer asks about your fashion or sports blog, tell them all about your SEO efforts and how you won readers through smart social media promotion.
Run a dress rehearsal. A day or so before the interview, put on your interview outfit (more on that later) and sit down with a friend or close family member. Have them ask the following common interview questions, and a few more specific to the company you're working for:
Why do you want to work here?
What is your biggest pet peeve?
What are your strengths and weaknesses?
Ask your mock interviewer to provide feedback on your answers, body language, facial expressions and speaking cadence. They should keep an eye out for posture, using too many "ums" or "likes" and speaking rapidly or in run-on sentences. This is essential for Skype or video interviews—facial tics and fidgeting are much more noticeable on the small screen.
Better to over-dress than under-dress. Even if you're interviewing at a tech startup, it's important to show the interviewer that you take them—and the job—seriously. Even the trendiest, most forward-thinking brands have investor briefings and advisory board events that require staff members to "clean up." Feel out the room when you get there: If you show up in a suit but notice most of the staff is wearing T-shirts, you can always take off your blazer and hang it on the back of your chair. Another plus: Studies have shown dressing formally can increase confidence and make you feel more powerful.
The best interviews feel more like a conversation than an interrogation. Remember: even if your first interview seems high-stakes, there will be many more throughout your career (and likely throughout your current job search). You're interviewing them as much as they are interviewing you. Interviewers always ask if you have any questions, so come prepared with a list of questions that really help you get a sense for company culture and day-to-day activities. Also, find ways to engage your interviewer the way they'll expect you to engage their audience as an employee. Did the potential employer blog about a campaign you want to know more about? Did you read an article or see someone speak on a topic relevant to company interests? Let your excitement shine through!
Crisis communications 101: If you freeze, pivot. If you forget to mention an important internship or blank on the recent company initiatives you researched the night before, you can pause at the end of a separate thought and ask the interviewer, "Actually, do you mind if I return to the question you asked about X? I wanted to add..." Even better, if an interviewer asks a question that provides an opportunity for a good segue, you can say: "Which reminds me, I forgot to mention earlier that..."
Always, always, always send a thank you note. It may seem like a small thing, but sending a brief thank you note to your interviewer can make a big difference if you're up against several candidates with similar experience. If you don't have the interviewer's direct contact info, or are interviewed by multiple staff members, you can look them up on LinkedIn and send them separate messages. Keep it brief, but if there's anything you neglected to mention or that came up in your discussion (e.g., "here's a link to that great article on Instagram I mentioned earlier"), your thank you note can be a great opportunity to make a final impression.
Follow Sophie: @SophieMaerowitz