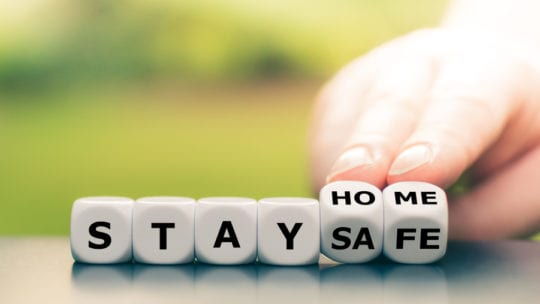 Nearly 80 percent of senior PR executives we surveyed late in March said the health and safety of their staff was their top priority. "Staying afloat" was far behind, at just 41 percent, according to the more than 200 PR executives we polled. Other findings:
Most PR pros feel it's still a good time to pitch, even if your pitch is unrelated to the virus
Emotion has emerged as a top-of-mind ingredient for internal and external messaging, though emotion was not a priority prior to the virus
Most PR teams are planning for the post-virus period, though just half are making formal plans
Despite coronavirus, the number of companies without robust crisis plans is holding steady at about 20 percent
Revenue or Safety?
"Making sure staff members are safe and healthy" (77 percent) and "communicating regularly with customers" (67 percent) ruled the day. Not even half (41 percent) said the top priority was "staying afloat in a decimated economy."
For Robert Hastings, CCO and chief of staff at Bell (formerly Bell Helicopter), the responses make sense. "During times like these," he says, "leaders – and their communications partners – should be focusing on what is most important, and that is people."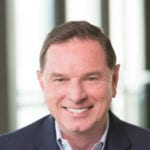 Natasha Kennedy, global MD of FleishmanHillard's TRUE Global Intelligence practice, was "pleasantly surprised and validated that many respondents are concerned about the welfare of their employees right now." She adds, "It's ethical, humane and plain good business." Communicators will be needed "to deliver on our short- and long-term goals."
A former Assistant Secretary of Defense for Public Affairs, Hastings adds, "The health, safety, and welfare of employees is the most important responsibility of leaders."
Economic Woes Lag Survey
The last two responses (staying afloat and finding new revenue) may be different by now. Our guess is that in late March, when the survey was completed, the significance of the virus on the economy was not fully understood.
A second interpretation harkens to traditional PR. Communicators, this interpretation goes, aren't concerned with finding new revenue streams. They're not an integral part of the sales funnel. While this is antiquated thinking, it might explain some of the
response.
Another interpretation is that companies are acting differently than they would during business as usual. Instead of looking for business, they are attempting to eke through this difficult period. They'll do that by serving customers as best they can.
In addition, as Finn Partners' managing partner and global health lead Gil Bashe says, during normal times, companies want to be perceived as smart and competitive. In this environment, though, being smart and caring are what's important. So, in other words, provide as much counsel, care and advice to customers, without selling them too hard.
Media relations guru Michael Smart agrees. He believes smart companies, in PR and out, understand cash isn't flowing. Selling is less of a priority. Being seen as a company that cares about customers, providing knowledge at little or no additional cost, is paramount and will pay dividends after the virus has gone, he says.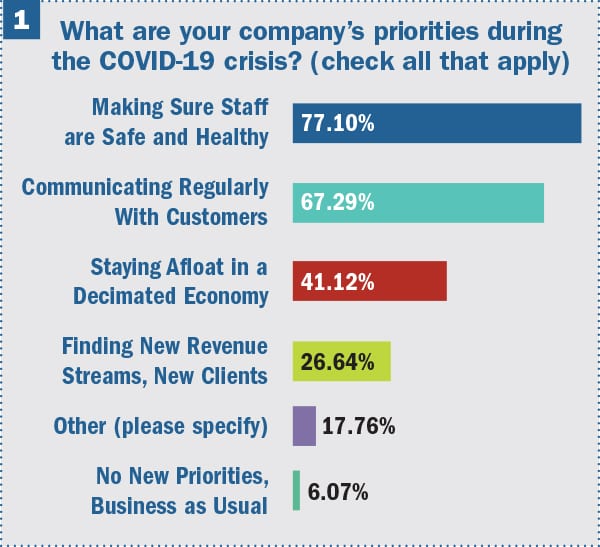 Source: PRNEWS, March 16-27, 2020 (215 respondents)
Pitch or Not?
Chart two, about pitching or not pitching non-virus-related material during this moment, is intentionally controversial. As you see, a slight majority (57 percent) are counseling that it's OK to continue pitching non-virus stories "where and when appropriate."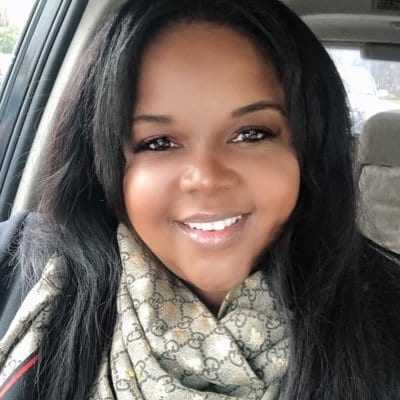 "That blew my mind," says Nicole Dye-Anderson, AVP, media relations and partnerships at Barclaycard. Her concern is that some companies are pitching stories that are too sales-y for this moment. "It's almost tone-deaf," she says.
On the other hand, she's fine with HBO's #StayHomeBoxOffice effort, that includes the aforementioned 500 hours of free content. "HBO's encouraging people to stay home. That's helpful and the hashtag is clever. It doesn't seem too self-serving," she says.
During the next 3 to 9 months, Dye-Anderson believes, companies "will be judged" by how they react now to the virus.
Chart 3 is a glass half full or half empty. Some argue the responses show communicators are getting that coveted seat at the table: 73 percent said they have "plenty" or "adequate" time with the C-suite. It's concerning, though, that nearly one-third (27 percent) had "very little time" or "no time at all" with leaders to discuss objectives.
It's not a secret that there's a lot of communications advice floating around during the pandemic. People are worried about many things, including their and their family's health, their job/health insurance and future.
Useful Over-Communications?
A phrase that's almost become a buzzword is over-communicate with staff. The survey shows its popularity. Nearly 80 percent said they're over-communicating (see chart 4). That begs the question: Are communicators sending employees useful, authentic messages or long-winded speeches from the C-suite that lack transparency?
More communication and more human communication is expected during difficult times, says Hastings of Bell. "Today's crisis is a human one, and it requires a human response." People are looking for answers "in an overload of conflicting and confusing information."
Since coronavirus is a crisis without a clear end, Hastings says staff are seeking "guidance in the face of the unknown. They are looking for strength instead of fear."
It is imperative, he adds, that leaders be visible, informative, compassionate and authentic at this time. Leaders, he says, "will make the difference between organizations whose employees remain engaged, motivated, and productive."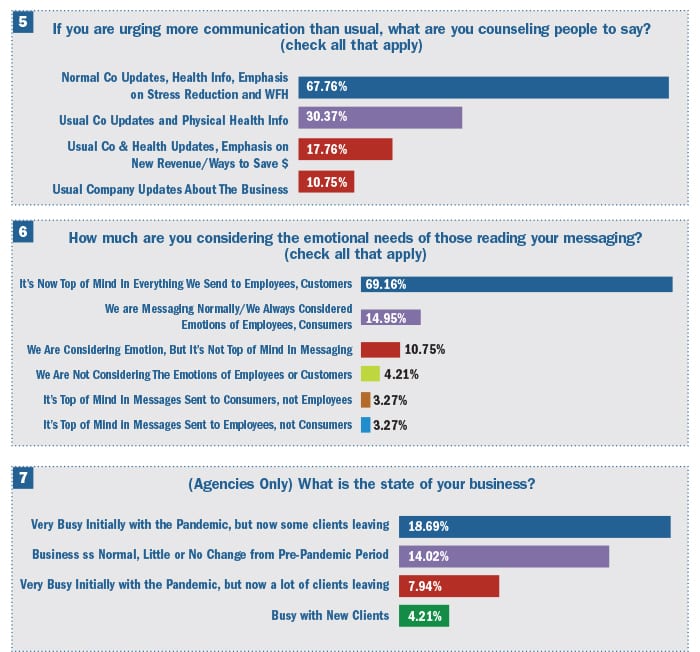 Softer Messages
In addition, 68 percent of those who are communicating more with staff are including what can be called softer messages with the usual business updates (see chart 5). These softer messages include stress-reduction tips and ideas for working from home.
Chart 6 was a surprise. While we expect the emotional content of messaging to be high at this moment, and it is, at 69 percent, we thought more PR pros would have chosen "we are messaging normally in that we always considered the emotions of our customers and consumers." Only 15 percent chose that response.
"There's got to be an emotional side" to every story, Dye-Anderson of Barclaycard says. "That's one of the things that makes a story newsworthy," along with elements like timeliness. By the same token, she's surprised that just 69 percent said emotional needs are top of mind in their messaging.
The Crisis Conundrum
As with all these questions, chart 8 represents a snapshot in time. That's why we asked if the pandemic has prompted companies to be more concerned about crisis.
As you see, 20 percent of respondents said they or those they represent lack a crisis plan. That's what we've seen in our other surveys.
Kennedy was surprised 37 percent said they and their clients either lack a crisis plan (20 percent) or have no intention of updating their plan in light of coronavirus (17 percent). She thinks that's a mistake. The pandemic, she says, will change "our prior ideas...of relationships." This calls for companies to have crisis plans and update existing plans.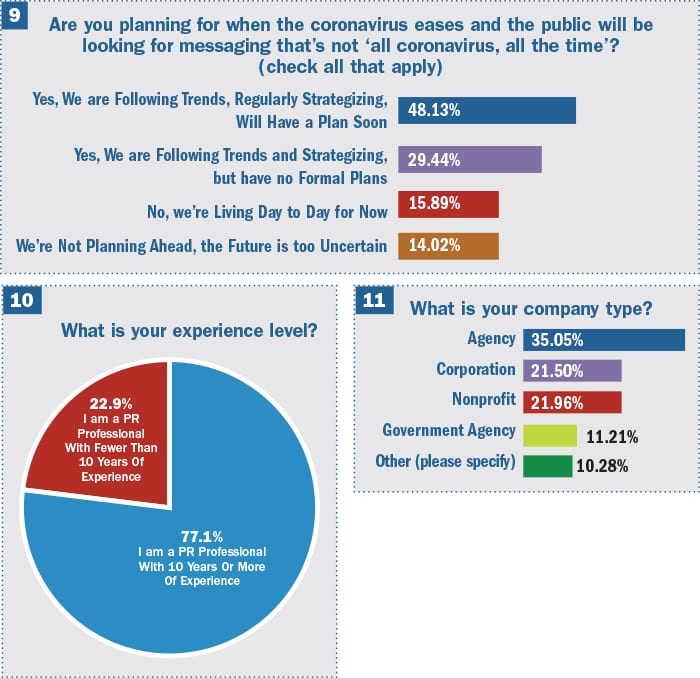 Plan Now
The question about crisis planning in chart 8 transitions easily into chart 9, where we find nearly half the respondents (48 percent) have a formal planning process for the post-virus world. Another 29 percent are planning sporadically, with about the same amount living day to day and not planning ahead.
Note: A version of this story appeared in the April 2020 edition of PRNEWS. For subscription information, please visit: http://www.prnewsonline.com/about/info
Seth Arenstein is editor of PRNEWS. Follow him: @skarenstein