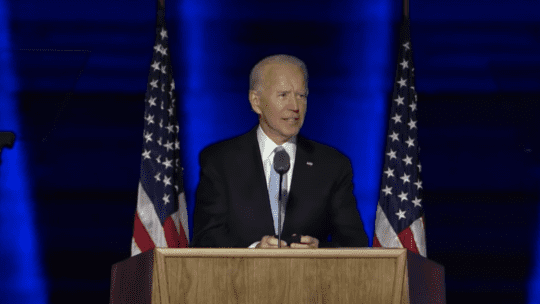 On Monday (Nov. 9), a tone of getting down to business contrasted with celebrations launched the day of president-elect Joe Biden's acceptance speech Nov. 7, when tallied ballots revealed electoral college and popular vote victories. Biden wasted no time, announcing the lineup for his COVID advisory board early this morning, as well as holding a briefing on goals and tasks for the group. 
While the election showcased a deeply-divided nation, Biden's acceptance speech called for unity and healing. He set a precedent with the speech's tone and content, acknowledging battles affecting every citizen across the nation. Bringing people together seems a systematic goal for the incoming administration. Letting people know out loud was one way to adhere to that promise.
"I pledge to be a president who seeks not to divide but unify, who doesn't see red states and blue states, only sees the United States," Biden said. "I'm proud of the campaign we built. I'm proud of the coalition we put together, the broadest and most diverse coalition in history. Democrats, Republicans, independents, progressives, moderates, conservatives, young, old, urban, suburban, rural, gay, straight, transgender, white, Latino, Asian, Native American."
Setting a Tone
Eric Yaverbaum, CEO of Ericho Communications, noted a hallmark of PR, the importance of mixing words and action. The president-elect's words "alone won't magically fix the deep-seeded problems that have come to the fore, in the past four years especially," Yaverbaum said. "But it's important that he began laying the foundation to set the tone for his presidency early on."
Biden mentioned the president just one time. Instead, he focused on the future, rather than referring to the country's past and current divisions. 
"By only mentioning the sitting president once and focusing on encouraging unity and peace, Biden is signaling a rejection of the tribalistic power plays that have so dominated political discourse over the last four years," Yaverbaum said. 
Turning the Tide
For many viewers, the speech was a reprieve, a 180-degree turn from the president's often divisive oration.  
"Folks, I'm a proud Democrat, but I will govern as an American president," Biden said. "I'll work as hard for those who didn't vote for me as those who did. Let this grim era of demonization in America begin to end here and now. Refusal of Democrats and Republicans to cooperate with one another. It's not some mysterious force beyond our control. It's a decision, a choice we make. And if we can decide not to cooperate, then we can decide to cooperate."
Yaverbaum said the striking difference in hyperbole was not an accident in developing Biden's delivery and demeanor. 
"This speech and messaging are so starkly contrasted against the divisive, incendiary rhetoric of the outgoing administration that it's clear his speechwriters are focused on projecting a tolerant, inclusive, accepting image of the president-elect (reiterating his promise to be a president for all Americans)," he said. 
A Nod to Spirituality
Biden also embraced his Catholic upbringing, offering an olive branch to Americans who consider their spiritual beliefs when making political decisions. Biden recited lines from the hymn, "On Eagle's Wings," offering solace, and showcasing the importance of his faith. 
"Folks, the last days of the campaign, I began thinking about a hymn that means a lot to me and my family, particularly my deceased son, Beau," Biden said. "It captures the faith that sustains me, and which I believe sustains America.
"And I hope...it can provide some comfort and solace to the 230,000 Americans who've lost a loved one to this terrible virus this year. My heart goes out to each and every one of you. Hopefully, this hymn gives you solace as well." With that, Biden quoted the hymn:
And he will raise you up on eagle's wings, bear you on the breath of dawn, and make you sign just like the sun and hold you in the palm of his hand.
"And now together, on eagle's wings, we embark on the work that God and history have called upon us to do, with full hearts and steady hands, with faith in America and each other, with love of country, a thirst for justice."
This was how the president-elect invited the public in, showing a vulnerability of belief, and allowing the country to see a side of his values. 
Holding Biden Accountable
As noted above, words will only go so far. A virus is raging. In its wake, long-term unemployment continues to climb. Actions certainly will make a difference in winning a country's trust. However, for a first act, the Biden administration made a move in the right direction, addressing the entire country's needs, not just those of one faction. 
"While it will take much more than one speech to mend our rifts, if he continues to lead by marrying his actions to the values expressed in speeches like this one and on the campaign trail, Biden will have a better shot of bringing the country together," Yaverbaum said. 
"He's fighting against a lot, but a speech like this sets him up to begin uniting the country."
Nicole Schuman is a reporter for PRNEWS. Follow her @buffalogal