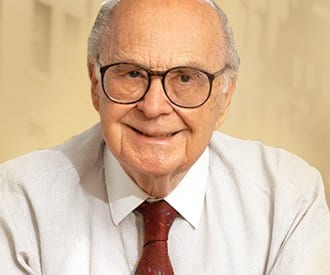 To say the world of PR lost an icon today with the passing of Harold Burson, aged 98, is an understatement. One "of the founding fathers of modern PR" is how many describe Burson. That's "a bit of a stretch," the Memphis native told Memphis magazine during a recent interview.
Having been in his presence several years ago during an awards dinner, we don't believe it's a stretch at all. When it was announced that Harold Burson was in the room, the crowd rose and applauded spontaneously and loudly. It raised excitement in the room several levels. As was his custom, Burson eschewed the head table. He was comfortable at the back of the ballroom.
Greatness mixed with modesty and intelligence were touchstones of the co-founder of Burson-Marsteller.
Burson, The Gentle Mentor...
Jim Lindheim, a former Burson-Marsteller chairman, told us of Burson's modesty, which extended to his mentoring philosophy. "I was lucky enough to have been one of Harold's mentees," Lindheim says. Yet Burson "rarely gave...direct suggestions." Instead, says Lindheim, "There was the quietest, gentlest hand at the small of my back, guiding me in a new direction or carefully steering me away from a cliff."
Adds Lindheim, Burson's "role, [Burson] believed, was to nurture the best in the people around him."
We love how Lindheim sums up the gentle guidance Burson offered: "He was a gardener, not a sculptor."
Burson was honorary chairman of the firm during Lindheim's chairmanship for 10 months during 1995-96. He returned to the role of chairman when Lindheim left.
Institute for Public Relations president/CEO Tina McCorkindale commented on Burson's aura. "When I was around Harold Burson," she says, "I always felt that I was in the presence of greatness."
...And a Beautiful Mind
Burson's knowledge impressed McCorkindale. "I loved hearing his stories—he seemed to know everything about everything and was one of the most well-read individuals." Indeed, under his father's influence, Burson began reading at age 3. Too advanced for first grade, the young Burson was skipped into second grade within days.
Measurement guru Katie Paine notes Burson's keen mind and his knack for being in the forefront of trends and ideas. "Harold was an early measurement proponent…before it was cool," she says.
In addition, he was the first of the post-war PR leaders "to see the extraordinary potential of integrated marketing, teaming up with ad man Bill Marsteller in 1953," says Shelley Spector, founder and director of The Museum of Public Relations. She adds that Burson, despite his objection, will be "remembered in the textbooks for taking what had been a cottage industry in the U.S. immediately following World War II, and turning it into a burgeoning global business."
Before it merged in 2018 with Cohn & Wolfe, Burson-Marsteller had nearly 80 offices in 110 countries across six continents. Burson remained active until the end. He reported to the Memphis office of BCW three days per week. He'd moved back to his hometown during the summer.
Spector adds that Burson "was the crisis counselor CEOs relied upon when their companies got into trouble—famously with Tylenol and Coca-Cola—and the confidante presidents called on, notably, Ronald Reagan and Lyndon Johnson—when their reputations needed a boost."
Integrity and Kindness
And at a time when PR has to fend off accusations that that it intentionally spreads misinformation, Burson, says McCorkindale, "was a shining example of how public relations should be practiced—with integrity and care for others." She adds, "Not only did he make an impact on the profession as one of the founding fathers, but he made an impact on society. He touched so many lives…his impact will be felt for generations."
In a statement earlier today, PRSA picked up on McCorkindale's point about Burson's role in shaping current and future generations of communicators. "Harold Burson was a pioneer… whose legacy will continue to influence the communications profession long into the future."
Through his membership in PRSA and as a member of the College of Fellows' inaugural class (1989), "Harold was a treasured, generous role model and mentor who helped shape countless generations of students and communications practitioners. His passing is a tremendous loss and our heart goes out to his family and to the many people whose lives he touched. He will be missed very much."
Seth Arenstein is editor of PR News. Follow him: @skarenstein