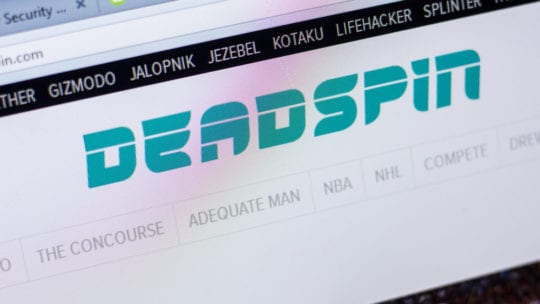 On Monday morning, Oct. 28, 2019, G/O Media editorial director Paul Maidment sent an internal memo to its sports and pop-cultural publication Deadspin. It directed staff to "write only about sports and that which is relevant to sports in some way."
Five days later every writer on Deadspin's editorial board was gone. The following week Maidment announced his resignation.
What happened?
Deadspin writers frequently noted the stick-to-sports argument was a strategy meant to shun people "deemed unfit to bring their political takes past stadium security."
Stick to Sports or Not?
Many critics of Deadspin's free-wheeling political and pop-culture commentary argue that this style of sports journalism undermines what a sports blog should be.  What many of those stick-to-sports advocates, G/O Media included, ultimately failed to realize, however, is that not sticking to sports is what made Deadspin and sports blogs like it so popular.
Deadspin had a talent for distilling enormous cultural events into digestible content. Often it featured wildly outlandish, yet humorous headlines: After Game 2 Pouding, the Astros Are Up To Their Neck in Doo Doo.
I refer to Deadspin in the past tense. Even though Deadspin remains live, it is clear that the late-October 2019 fallout has changed the nature of its content.
Know Your Audience
Having the freedom to think, talk and write like a fan is precisely what attracted readers to Deadspin. In PR terms, G/O Media didn't understand Deadspin's audience or the appeal of the product.
And G/O compounded the problem in several ways that offer PR lessons. First, the company offered analytics 'proving' that sports articles did better than culture pieces on Deadspin. Good move, right? No.
Former Deadspin employees countered with real analytics on social showing this was a lie. Unlike G/O, Deadspin writers were aware of what worked well on the site. The writers avoided writing about things that did poorly. As such, they understood there was room for non-sports topics, and the writers had numbers to prove it.
Silence in a Crisis
In addition, G/O's response to what was being said on social about the memo was weak. Was it doing any social media monitoring?
For several days the memo became a circus on Twitter, and G/O offered a minimal response. It posted patronizing and empty statements.
It's better to be authentic or come up a worthy piece of information for readers, rather than just waste time creating statements for the sake of statements. G/O seemed to have no idea how to talk to Deadspin's stunned and shunned audience, and it showed all over the internet.
G/O's tone deafness also resulted in its removing the commenting system on its site—further angering readers and showing that the company did not trust, or care to hear their opinions.
A Free Press
For PR pros who come from media or have worked directly with the press, it seems obvious why Maidment's memo would backfire so aggressively. Regardless of background, we would be remiss in this post-mortem analysis not to mention a simple but fundamental principle of journalism: freedom of the press.
The First Amendment gives media the right to report whatever it deems newsworthy, without censorship from government or authoritative bodies.
The Maidment memo outlined an editorial direction that both opposed the signature style of the publication and threatened the staff's ability to provide unfiltered truth to readers.
Past Mistakes 
A similar situation unfolded in 2015 between ESPN and Bill Simmons, the prolific sportswriter. Simmons long exchanged friction with ESPN management for his unrestrained, and at times vilifying, commentary about sports ownership. He also whacked at pop-culture icons and political figures.
With his no-holds-bars editorial style, Simmons pioneered a sports and pop-culture blog called Grantland. Simmons's notoriety as a commentator and his ability to describe sports with a slightly unpolished yet engaging analysis fueled Grantland's 4-year run at ESPN.
When Simmons left ESPN, it wasn't the end for him or his style of writing.
The Good News for Journalism
Despite the sudden and public demise of Deadspin, there is a silver lining for former staff.  After he departed ESPN, Simmons founded The Ringer, cast in the style of Grantland. Former Grantland staff like Shea Serrano joined him. Simmons calls the shots now.
Deadspin writers find themselves in a similar position to what Simmons experienced. And largely for the same reasons. Many writers will look for new homes. Similarly, readers will get busy. They'll seek new sources of content to replace what's no longer at Deadspin.
Time will tell if the same content-bleached fate will engulf G/O's other popular media channels, including The Onion, Gizmodo and The A.V. Club.
What's certain is that the reputations of Deadspin and G/O Media are tainted.
Dave Dykes is a senior account executive at Bluetext. PRNEWS content manager Nichole Schuman contributed to this post.