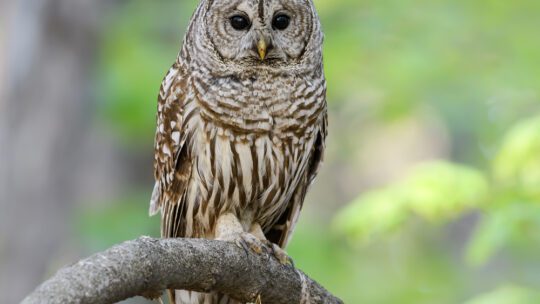 Friday (Aug. 6) was a sad day for New York City bird lovers. They learned that a beloved and well-documented barred owl (known as "Barry" by fans and The New York Times alike) was killed when the driver of a maintenance vehicle in Central Park struck him.
It also was not a great day for the Central Park Conservancy communication team, which tweeted the news Friday afternoon.
It's with a heavy heart we share that a barred owl, a beloved Central Park resident, passed away early this morning. pic.twitter.com/AYEV0gXZIr

— Central Park (@CentralParkNYC) August 6, 2021
The birding community is quite passionate, and online responses ranged from grief to outright ire at the Conservancy for not taking responsibility for the accident.
A Twitter user issued a critique that would fit right in as a PR best practice at this site.
"I mean, accidents happen, but 'the owl made contact' is the most pass-the-blame nonsense I've ever heard. Y'all hit an owl. I'm sure it was an accident. Might have even been unavoidable. But y'all hit an owl. Acknowledge the facts and apologize. Don't blame the owl," user Joel Cheuvront wrote.
Safe streets advocates, who often take to Twitter to decry the routine victim-blaming of those struck by motor vehicles, were equally unsatisfied. In the top reply to the post, the @NYCBikeLanes account lampooned the Park for seemingly blaming the owl for the crash. It darkly referred to the incident as "suicide by maintenance truck."
Streetsblog New York, an activist publication that routinely publishes articles calling for more accountability for reckless drivers, was even more scathing. It referred to the Conservancy's PR staffer in the pejorative as "a flack" who told a Streetsblog reporter that the vehicle in question was "traveling slowly (about 15 mph) using lights and flashers on the West Drive (in low 60s) doing routine park maintenance when the accidental collision occurred." Author Jessie Singer similarly picked up on the victim-blaming theme.
note the conservancy focuses on barry's behavior ("flying low" "searching for a meal") and not at all on what the van driver was doing, which studies show, is a very effective way to encourage victim-blaming and distract from dangerous conditions.https://t.co/iieis08vlB

— Jessie Singer (@jessiesingernyc) August 6, 2021
The kicker for most critics of the Conservancy's statement is its passive language. As most PR pros will tell you, the most successful pitches and other content are written in active voice, with a clear description of the subject and action taken ("made contact" does not infer the severe nature of the crash).
Kati Murphy, executive director of public affairs at the Art Institute of Chicago, agrees, noting, "When sharing difficult news about beloved public symbols, the first instinct of many communicators is to slip into passive voice and deflect blame."
PR pros should ignore that instinct and take a different tack, she advises.
"Unfortunately, this often calls more attention to the deflection. It feels uncomfortable to speak plainly when your audience is emotionally vested in the story, but clear and transparent language makes it easier for readers to process and understand."
(Murphy knows something about handling PR for beloved animal mascots. She led media relations around a pro-masking campaign, and subsequent vandalism, of the Institute's iconic lion statues last year.)
Jon Haber, president of Washington D.C.-based Cascade Strategy, also considers emotional tone critical in situations similar to the Conservancy's plight. He notes that "it's important to meet your audience where they're at"—a must in this case, considering Barry's scores of adoring fans and bird-watchers. "That means using an empathetic and sympathetic tone. Don't hide the facts or try to shift responsibility."
Haber adds that it's crucial to "be clear about the details," indicating that the information the Conservancy's PR team offered Streetsblog—including the vehicular speed and exact nature of the Park staff's activities—was long overdue by the time the story broke.
In addition, Haber notes the importance of a sincere apology, saying communicators must "genuinely apologize if the organization's made a mistake." Given it was Central Park staff behind the wheel, one would hope some accountability is waiting in the wings.
Sophie is senior content manager for PRNEWS. Follow her @SophieMaerowitz.