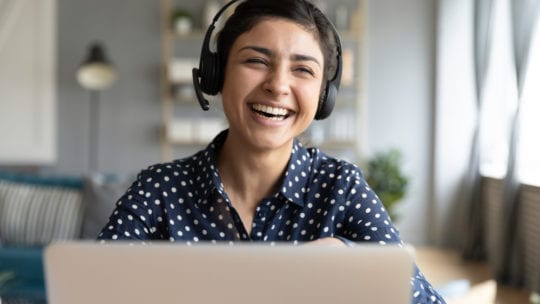 The pandemic has changed much for communicators. One thing that's different is the rise of internal communications as most of the country is homebound. What hasn't changed, though, is the communicator's basic job: Break through the noise and get your message heard. For internal communications, some PR pros are turning to private podcasts as a change of pace from the seemingly endless chain of virtual town halls, video calls and emails. We asked Shira Atkins, CMO of Wonder Media Network, about this trend. Her edited responses are below.
PRNEWS: It's not a secret that internal communications can be the most difficult part of a PR pro's job. Too many employees think of internal communications as dry and long-winded. What tips do you have to increase engagement using private podcasts?
Shira Atkins: Private podcasts for internal communications need to be very intentional: who are you trying to impact, why is this important for them, and what communication functions are you trying to replace? Make sure you are not doubling up on work for employees. Instead, you should be streamlining existing communication channels in a new, disruptive way.
Episodes in most cases should not run longer than 20 minutes. They should be reasonably structured so listeners are comforted by the regular cadence. The host should be someone who has been vetted for being an effective oral communicator. Of course, the person should have a voice that is widely palatable.
PRNEWS: Using a podcast for internal isn't the usual route. What are some benefits?
Atkins: Privately streamed podcasts let employees exercise, cook lunch or give their eyes a rest from screens while consuming relevant information. Podcasts can be engaging, approved ahead of time and edited to distill only what's really required.
The ability to track downloads compared to newsletter reach also is appealing. And you can connect employees across the world in their own voice, rather than using a clinical block quote announcement in an email.
PRNEWS: What are the challenges?
Atkins: Convincing companies to adapt the traditional role of an internal communications manager that allows her to develop audio streams.
PRNEWS: And episode structure and cadence are important, right?
Atkins: Yes. However, as the set-up is simple enough and employee interest in contributing tends to be high, these issues are easily handled.
PRNEWS: What will communicators learn when using podcasts for internal communications?
Atkins:  That podcasting isn't very difficult.
In addition, as everyone has a smartphone or recording function on their laptop, with some guidance there is a lot of quick-turn crowdsourcing of employee voices that can be integrated into each episode.
The host on a podcast also needs to be conversational in a way that will differ from most corporate newsletter copy, though this should be celebrated as a positive.
A great podcast can and will feel like a conversation between and with friends who you otherwise might not get the chance to engage with. This helps break down silos across teams and lift spirits.
PRNEWS: There's been a focus on internal communications since the pandemic. What type of company is calling you the most?
Atkins: There has been a spike in interest particularly from larger corporations. Their internal communicators are concerned about how this period of employee self-isolation is going to impact their ability to have unified messaging reach staff. Much of the sudden outreach has been from multinationals, which have struggled to communicate with impact across segments and geographical lines.
Seth Arenstein is editor of PRNEWS