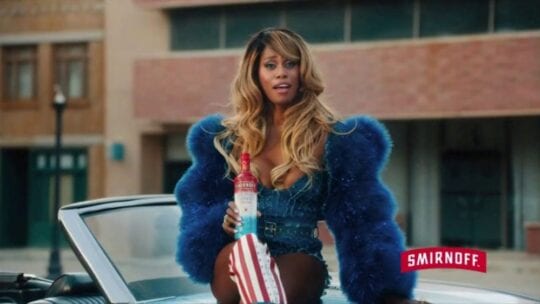 It's not just campaign season for presidential candidates. It's also a very creative time for brands getting involved with election-themed campaigns. Without playing politics, many brands have taken advantage of the nation-wide event, which occurs once every four years in the United States. 
While most Americans may be exasperated from debates, character attacks and endless fundraising emails, brands have displayed a playful, even helpful, sentiment toward the election. PRNEWS looked at several memorable campaigns vying for voters' attention. 
JibJab
You may remember a video going viral during the 2004 presidential election, featuring George W. Bush and John Kerry with big heads and even bigger performances in JibJab, the digital entertainment studio's political satire, "This Land." 
JibJab also found fame for its other interactive videos, including its e-card rendition of "Elf Yourself" in partnership with OfficeMax, which passed through many a colleague's inbox in the mid-2000s. 
JibJab now has re-emerged into the political satire spectrum for the first time in six years after it purposely paused those efforts because, according to the company, the environment became too divisive. Its latest video and e-greeting encourages citizens to "Go Vote!"
LOTRIMIN
And from what may be an unexpected source, LOTRIMIN, a provider of over-the-counter foot care, launched a purpose-driven campaign. And when you think about it, the company actually hit the nail on the head with a very smart campaign that may affect many voters. 
LOTRIMIN's "stand with confidence" campaign not only acknowledges the brave citizens who may have to stand in line for hours to vote, but also uses the play on words to promote having a voice at the polls. 
The new social/digital campaign is inclusive of paid social content (including a series of Instagram and Snapchat filters that will give people a voice and enable them to share what they believe in, such as social justice and healthcare), positioning LOTRIMIN as an advocate for giving people a platform to share what they care about most this election season. 
Smirnoff
And never one to be a shrinking violet, Smirnoff's #DontDrinkAndDebate ads aired during and throughout the month of presidential debates. Famous faces such as actress Laverne Cox and U.S. women's soccer star Megan Rapinoe remind Americans that discussion of the issues is best done when sober. 
The most clever line states, "Never drink and bring up Russia," acknowledging the homeland of many vodka spirits, as well as hinting at the controversial relationship between the country and the U.S. As the ad advises, it's probably better to drink water. 
The Founding Fathers never mixed alcohol and politics. Probably. We hope. They debated responsibly right? Right? Anyway #DontDrinkAndDebate #Debates2020

— Smirnoff US (@SmirnoffUS) October 23, 2020
Krispy Kreme
The popular doughnut chain promises to "sweeten Election Day" by offering all guests a free original glazed doughnut when they visit a Krispy Kreme shop on Nov. 3. And while this is a great giveaway in and of itself, Krispy Kreme is also looking out for those searching for an "I Voted" sticker. Because of 2020's increase in voting-by-mail and pandemic-related precautions at polling locations, Krispy Kreme will be distributing "I Voted" stickers for those missing out on the political badge of honor.
Visitors can share how they are enjoying a their free Election Day doughnuts, as well as civic pride by using #KrispyKreme and tagging @krispykreme on social media.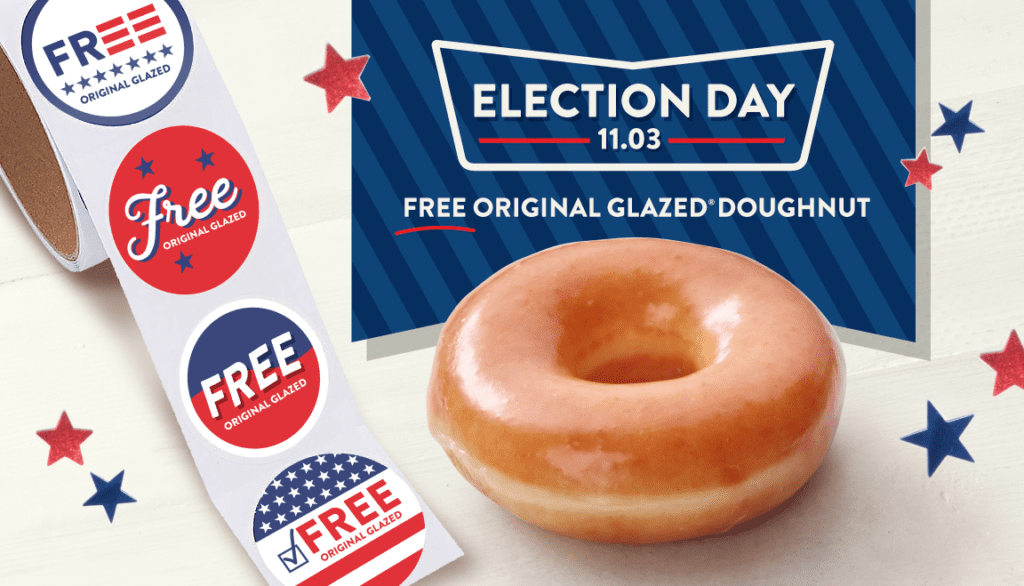 Nicole Schuman is a reporter for PRNEWS. Follow her @buffalogal