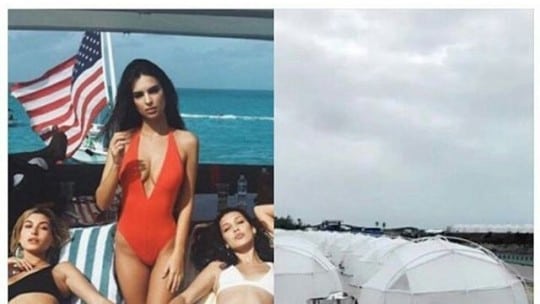 "Luxury music festival" or "$100 million lawsuit"? All it took was one weekend of social media outrage for the Fyre Festival, a music festival scheduled to start April 27 in the Bahamas, to see its reputation shift from the former to the latter. Concertgoers who had paid up to $12,000 per ticket arrived at a bare-bones campsite in disarray, learned that musical acts had pulled out of the festival and had a difficult time leaving the island location.
In case you're wondering, those "cabanas" are actually disaster relief tents.#fyrefestival pic.twitter.com/jaZpkIKVT2

— Matt Halfhill (@MattHalfhill) April 28, 2017
The chaotic scene prompted a media firestorm depicting a "Lord of the Flies" scenario (if the book had featured wealthy twenty-somethings) as well as a $100 million class action lawsuit against Fyre Festival organizers Ja Rule and Billy McFarland. The duo, a hip-hop artist and tech entrepreneur, respectively, began promoting their luxury festival in December 2016 with influencer Instagram posts from supermodels like Bella Hadid and a slick campaign video. The festival was supposed to continue over another weekend; the rest of the 2017 festival has been canceled. The festival's website has been replaced with a lengthy letter of apology that outlines organizers' future plans.
Trey Ditto, founder of Brooklyn-based Ditto PR, which works often with tech startup entrepreneurs like McFarland, says the the Fyre Festival's dilemma boils down to an all-too-common PR malady: over-promising and under-delivering. "They sold us on something they couldn't deliver," Ditto says.
Hyping a product is part of a brand communicator's job, but it holds obvious risks. Ditto offers four recommendations for making brand promises that might be difficult to keep.
You're only as good as your product. You can have a well-spoken CEO, but without a good product you're sunk. Fyre Festival's marketing team put forward a high-end festival with influencer marketing and high-definition renderings, but the product was awful; thus it failed. This happens in the tech industry often—a startup may have a good vision, but that must be coupled with implementation. Before the marketing begins, brands must ask: Does this truly have the backbone to be a good product?
Be cognizant of the balance between hype and the ability to create a premium, exclusive brand. We've seen this happen with startups following successful Kickstarter campaigns, where audiences see a product as the next big thing and it fails pretty quickly. McFarland's tech startup Magnises was also marketed as providing a new kind of service but ended up falling short. This dovetails into managing customer expectations: If you build something to be premium and exclusive, from the design to the product to the customer service, you may elevate the expectations of your customers to the point where they're undeliverable.
Know when to pull the plug, and be honest with audiences about it. Tech companies often promise a summer rollout in January that is unattainable with their current resources. But when a project is not likely to be ready on time there is a way to let customers know about roadblocks as they happen. On the other hand, when you're dealing with people who are already boarding a plane, it's too late. As the organizer, McFarland could have made the decision to pull the plug weeks ago.
Worry about the crisis at hand—and keep your apology short and to the point. Fyre Festival's organizers deserve some credit for releasing a statement quickly and speaking to a handful of reporters following the crisis. There are CEOs who would have put their heads in the sand and refused to comment. But the longer an apology is, the more likely you're going to come off as disingenuous. They should have written a shorter apology focusing on the here and now, but instead they said, "We're sorry, we'll double-down next time." The last thing on their minds should be planning for 2018.
Follow Trey: @treyditto