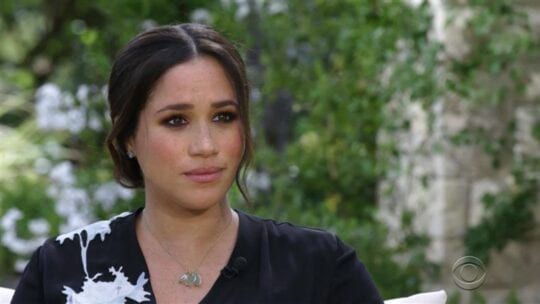 In general, most companies are interested in one of two things from PR: getting into the news or staying out of it.
As communicators prepare them for pursuing these goals, we illustrate the roles that make up nearly every news story today–that of victim, villain and vindicator. We also place emphasis on the authenticity and believability associated with claiming these roles.
For a message to inspire, audience members must believe it first. In advance of an interview, PR pros establish a strategic objective and craft messages to support it. The goal (in softball, and combative exchanges) is to have a conversation and deliver messages that support your purpose, not just answer questions.
What's Your Role in the Story?
Oprah Winfrey's interview with Prince Harry and the Duchess of Sussex, Meghan Markle, illustrates the importance of understanding your role in a news story. In addition, it demonstrates the centrality of being genuine in every exchange. Many are debating how believable the interview was; some are perplexed about how a person who seems to 'have it all' can claim the victim role.
Harry and Meghan are proving it is difficult (but not impossible) to play the victim, even when the perception is that you live in luxury. That is what these former Royal family members seem to be attempting–along with gaining empathy.
Place Your Bets
Obviously, critics and defenders are dissecting the interview. Each side is taking away ample evidence to support its case. Some say Meghan is the villain for pointing fingers at and making accusations against the Royal family.
In addition, the faultfinders argue that the couple is pressuring relatives across the pond to 'pay up' and provide security, titles and an allowance. Another perception this camp took from the interview is that Harry and Meghan are out of touch and selfish. Moreover, they say, the couple has no idea about real problems.
If pressuring the Royal family to fork over additional support was the couple's objective, well-played–following the interview, the heat definitely is on the palace.
Well-Played
Some critics are seizing on the price of Harry and Meghan's home, a lucrative contract with Netflix and many other opportunities unavailable to most people.
Still, these facts will never overcome the emotion and connection Harry and Meghan forged with viewers Sunday night.
Markle, especially, identified with the audience in a powerful way. Most people can identify with struggles to fit in, depression, suicidal thoughts, accusations of racism and family drama–regardless of wealth or status.
If seeking understanding and empathy were the couple's objectives, again well-played. Harry and Meghan delivered their messages on a raw and emotional level.
Still unanswered: What were the strategic objectives of the interview? Until we understand Harry and Meghan's goal(s), we may never know if the Oprah exchange worked for them.
However, proving to the world that money doesn't buy happiness, nor does status insulate you from drama and its associated headaches, are at least two points the public took away from the conversation.
Daniel Rene is managing director at kglobal