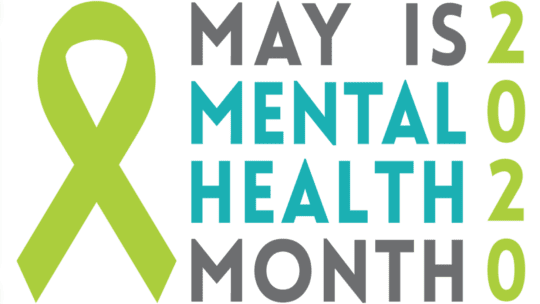 With COVID-19 at the front of everyone's minds, May's Mental Health Month messaging seemed to take a backseat. 
Or did it? 
COVID is taking lives, but not always in the ways we'd expect. News reports have circulated about many suicides by essential workers overwhelmed by the coronavirus. And stay-at-home orders and lockdowns are providing all sorts of new challenges to the human psyche. 
"The COVID-19 pandemic is a sort of equalizer," wrote Dr. Jessica Gold, an assistant professor of psychiatry at Washington University in St. Louis, in an Ideas piece for Time. "Nearly everyone is self-isolated at home, trying to work while managing a household, and dealing with uncertainty and grief. To some degree, everyone is experiencing what life with anxiety is like."
In a way, the pandemic brings the stigma of mental illness to the forefront, making Mental Health Month more important. Everyone is dealing with some sort of emotional or mental impact from our changing world. 
Communications tactics to promote the month may have pivoted to meld with the pandemic. If anything, the message may be clearer that mental health needs to be a priority. 
An Interactive Strategy
Mental Health America, the nation's leading community-based nonprofit dedicated to the needs and promotion of the country's mental health, started Mental Health Month in 1949. Over 71 years, it has become the most widely recognized mental health awareness effort in the world. 
Each year, MHA leads the effort with a specific theme and creates a comprehensive online toolkit related to that focus. The 2020 Mental Health Month theme is "Tools 2 Thrive." The toolkit provides practical tools that everyone can use to improve their mental health and increase resiliency, regardless of their situation.
Especially in light of COVID, the toolkit has become one of the prime pieces in delivering important messaging regarding mental health.
"While MHA decided on our MHM theme back in the fall, we added content to the Tools 2 Thrive toolkit when the COVID-19 epidemic hit," said Erin Wallace, chief communications officer, MHA. 
In addition to the toolkit, MHA launched a program to promote online screening—the #MillionInMay campaign—designed to get one million mental health screens, including for depression and anxiety. And since much of the country homebound, the online option is more important than ever. 
"MHA has been monitoring our Online Screening program in real-time, and has been able to see and report out to local and national media the sharp increases we are seeing in our anxiety and depression screens," Wallace said.  
Mental Health Month Sparks Media Relations
Since much of the news cycle is devoted to COVID, journalists have dedicated many angles to the mental health impact of the pandemic. MHA continued to deliver its consistent Mental Health Month messaging, but with a greater sense of urgency. 
"Our message during COVID-19 and our message before the pandemic has stayed consistent," Wallace said. "In fact, the pandemic in some ways has elevated the conversation about mental health and has highlighted what we at MHA already know— that mental health conditions should be treated long before they reach the most critical points in the disease process."
While MHA planned a media tour for Mental Health Month, the group moved up its timeline due to the pandemic. Its message has focused on the need to address mental health during the pandemic and beyond. And because of that, Wallace has been busier than ever. 
"MHA has seen a significant increase in national and international attention to mental health and how the pandemic is impacting everyone," Wallace said. "We have conducted more press interviews in the last two months than we typically see in six. Our leadership has been made available and has conducted dozens of interviews with national broadcast and print media outlets including MSNBC, CNN, ABC News and Washington Post."
In that regard it seems the goals of Mental Health Month are being reached, regardless of the distribution or type of branding. Mental health has become a priority for the media AND the public. 
Agencies Promote Awareness
Finn Partners holds itself to a high standard in the healthcare communications industry. It also strives to champion societal needs. 
Earlier this month, Finn conducted a non-promotional conversation via webinar to benefit health workers, caregivers and the public about the mental health crisis resulting from COVID-19. The hour-long online event, "Flattening The Next Curve - Mental Health During & After COVID-19," featured experts, including John Whyte, WebMD's chief medical officer.
"Many within Finn work in mental health for clients or have personal connections and advocate for the mental community," said Michael Heinley, senior partner at Finn Partners. "We recognized that we could help make a difference at this time by bringing together a panel of experts representing providers, patient organizations and the life sciences industry to provide their unique perspectives about the mental health response to COVID-19. This is just the first of what we hope will be a much-needed, ongoing conversation with the media and others to encourage timely and accurate coverage about issues, resources and ongoing mental health care during—and after—the pandemic.
We're hoping that this exchange contributes to flattening the mental health curve by addressing the needs of people whose health challenges are serious."
Nicole Schuman is a reporter for PRNEWS. Follow her @buffalogal