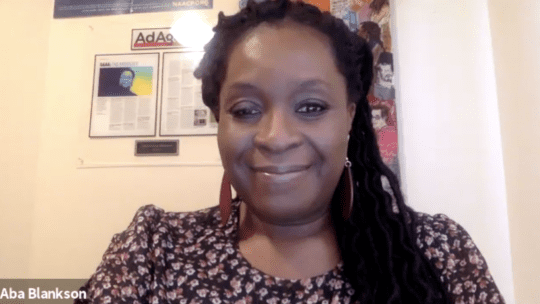 PRNEWS welcomed Aba Blankson, senior vice president of marketing and communications for the NAACP, as the keynote speaker for this year's Media Relations: Next Practices Virtual Event. Blankson engaged in a fireside online chat with PRNEWS senior content manager, Sophie Maerowitz, discussing PR and the language of protest in 2020. 
The NAACP handled a barrage of communications challenges in 2020, from COVID-19 to social justice and race relations, always keeping in mind the needs of its audience—the Black community and its advocates. 
Communicating COVID
Fortunately, the NAACP had been used to digital communications with its audience prior to COVID-19, hosting various virtual town halls regarding important topics like education and environmental justice, Blankson said. This year's strategy included continuing this method, making a point of getting people the information they needed in a timely and correct manner. 
"There's a saying, when America catches a cold, the Black community catches the flu," Blankson said. "At the beginning of March, back when a pandemic had not yet been declared, we still knew it would be difficult for the community. We knew if anything affected the nation as a whole, (particularly) a public health crisis, our communities would be hit hard."
The NAACP began to conduct COVID virtual town halls in mid-March to help diffuse conflicting information. These sessions included reputable voices like the U.S. Surgeon General and then-Senator Kamala Harris. Blankson said the NAACP wanted to make sure it was distributing timely information for the community on how to protect themselves, and it has continued that engagement throughout. 
"We make sure we are using an authentic and trusted voice," she said. "We got several messages from folks who were in tears, just because they were (grateful) for getting information. It's not always the grandest thing that makes the biggest impact, but being the organization that gives the information at the right time" is critical.
Engaging a Community
Bankson also discussed the "We Are Done Dying" campaign, which resonated with many during this summer's protests following the deaths  of George Floyd, Breonna Taylor and countless others.  
"It resonated because we were home," she said. "People were able to reflect on the moment. Because we have video, because we can see it, it's not as easily dismissed as it has been for centuries. "We Are Done Dying" was a declaration that 'enough is enough' and an exasperation...we cannot keep doing this, we can't keep going down this path."
For more examples and guidelines from Blankson's chat, as well as more content from the event, check out the sessions on-demand.
Nicole Schuman is senior editor for PRNEWS. Follow her @buffalogal.