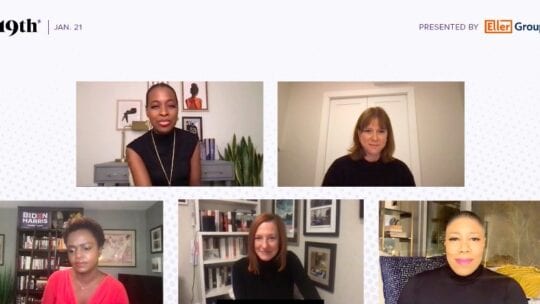 Within its first days on the job, the Biden-Harris administration already boasts one of the most diverse cabinets and workforces in White House history. Its communications team consists of some of the most qualified, capable PR staff in politics, and its leadership is predominantly female. 
On Jan. 21, The 19th, a nonprofit, nonpartisan newsroom reporting on gender, politics and policy, hosted a webinar titled "Meet the women shaping the Biden/Harris message." Editor-at-large Errin Haines hosted the conversation with White House communications director Kate Bedingfield, White House press secretary Jen Psaki, principal deputy press secretary Karine Jean-Pierre and chief spokesperson for Vice President Harris, Symone Sanders. The group discussed its messaging strategy for the White House moving forward, how female leadership can impact communications and policy, and how the team will utilize social media, among other priorities. 
Delivering the Truth
With the new administration inheriting a divided country, one of its immediate messaging duties is to inspire unity. The team noted the importance of its role in carrying out this message, but remains realistic that this will take time. 
"With great opportunity comes great responsibility," said Psaki, who previously served as the White House communications director under president Barack Obama. "We're going to do everything we can every day to rebuild trust with the American public. It won't happen overnight. But we're bringing back policy...substance…and having real conversations about real issues impacting people."
Psaki named some communications tactics the team will use to promote that trust, including the return of daily press briefings. She said the briefings will also include bringing policy experts into the briefing room, who will become the faces of—and the experts on—policies for the Biden administration.
She also said the strategy will include building off the briefing, as many Americans do not watch or read about the briefing on a daily basis. 
"We need to meet people where they are," she said. "We'll be taking questions from regional reporters and YouTube personalities (for example)." The team will look to deliver information on various platforms and channels to reach different audiences. 
Bedingfield, who previously served as deputy campaign manager and communications director for the Biden-Harris campaign and communications director during Biden's vice presidential term, revealed the strategy on combating misinformation, which may deliver some hard truths.
"The way to combat (misinformation) is to put information out there," Bedingfield said. "We're wholly committed to sharing honest information, and sometimes that will mean that we don't have the loveliest picture to paint. Our job is not just to paint everything with a rose-colored brush, but to be honest with the American people."
Twitter as an Accessory, Not a Bullhorn
Of course social media belongs in any good communications strategy, but the group said it will not be used as a primary news source for this administration. 
"It will be one piece of how we communicate," Bedingfield said. "It's an important line of communication to many people across the country. And there's enormous value in reaching people where they are."
However, Bedingfield added, you won't see the current president utilizing the Twitter platform in the same way as the former.
"You can expect that President Biden is not breaking news at 1 a.m. on Twitter," she said. "Trump gained followers and clicks by bringing divisive shock content. Our strategy is about putting forward things that make people want to engage with us and feel optimistic. They want to latch onto content that makes them feel hopeful about the future."
Jean-Pierre said the social media channel content is staying true to reflecting President Biden's voice, which emerged during the campaign. 
"When Joe Biden started his campaign, he talked of a historical moment in this country where we felt the soul of the nation was at risk, and so he decided to run for president," she said. "That's what you see when you see social media coming out from President Biden's Twitter [account]. It matters how you present that voice, and how you speak to the people, and that is what you are going to continue to see."
A Gender Advantage?
Haines asked the team how they see their roles influencing the normalization of women's leadership. The group agreed that while acknowledging the purposefulness of women leadership is important and thoughtful, it is not their focal point of strength. 
"We have this incredible group of amazing women, experienced, tough as nails, moms...we are women first, but we are also the best in the business, and that is why we have these jobs," Psaki said. 
Bedingfield paid tribute to their history of working together in various capacities throughout the years, which will make for a stronger team. 
"We've been in roles, built these bonds," she said. "It's less about the fact that all of us are women, and more about the fact we've worked together throughout our careers. For men that is routine. It's less true for women to have these histories together. It's becoming more and more common, but that's something men have always had in the workplace."
Jean-Pierre agreed. 
"We're in these roles because we are the best of the best—the bonus is that we are women," she said.
Nicole Schuman is senior editor for PRNEWS. Follow her @buffalogal