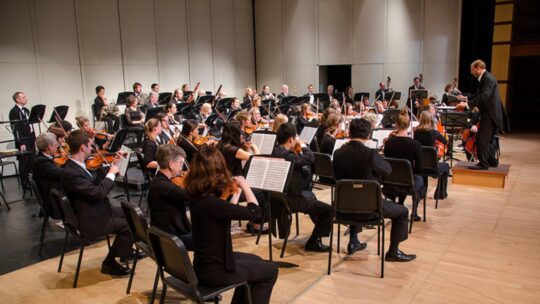 As the Ukrainian people's misery escalates in the face of a Russian assault, the economic and political isolation of Russia and its president Vladimir Putin continues apace. The war also has unleashed a PR crisis for prominent Russian musicians, dancers and some athletes with ties to Putin.
The best example of this in the cultural world is Valery Gergiev, one of classical music's finest conductors. A prolific figure in opera and symphonic music, Gergiev has lost a slew of jobs recently.
Munich on Monday...
The latest episode occurred today (March 1), when the Munich Philharmonic fired him as its chief director. Preceding the ousting was a challenge from Munich's mayor Dieter Reiter. Last Friday (Feb. 25), Reiter drew a line in the sand. He demanded Gergiev denounce Putin and the invasion by Feb. 28 or lose his job in Munich.
"I made my position clear to Valery Gergiev and asked him to...clearly and unequivocally distance himself from the Russian invasion… [and] brutal war of aggression that Putin is waging against Ukraine."
Gergiev said nothing for days. In turn, the mayor fired him.
Der Chefdirigent der Münchner Philharmoniker, Valery Gergiev, hat auf das Schreiben von Oberbürgermeister Reiter nicht geantwortet. Dazu
Oberbürgermeister Reiter: pic.twitter.com/VsHWLl1p0x

— Munich Philharmonic (@Munich_Phil) March 1, 2022
Rotterdam, Edinburgh Too
Just a few hours later, the Rotterdam Philharmonic Orchestra also cut its decades-long ties with Gergiev.
Prior to the Russian invasion of Ukraine, Gergiev's popularity in Rotterdam was clear. Its annual fall musical event was called the Gergiev Festival. That too is gone now.  In a statement today, the Rotterdam orchestra said in part:
Following last week's invasion of Ukraine by Russia, Valery Gergiev was invited to respond and to publicly distance himself from the acts of President Putin in Ukraine....Yesterday evening we were able to contact Mr Gergiev. However, at the end of this conversation insurmountable differences remained. The Rotterdam Philharmonic Orchestra and the Rotterdam Philharmonic [Gergiev] Festivals therefore consider they have no choice but to terminate their relationship with the conductor.
Also today, Gergiev was forced to resign his post as honorary president of the prestigious Edinburgh Festival.
More Cuts
In addition to the above, previously La Scala in Milan, the Festspielhaus in Baden-Baden, the Elbphilharmonie in Hamburg and the Verbier Festival have ended their associations with Gergiev.
Last week, Gergiev was to conduct concerts in NY's Carnegie Hall with the Vienna Philharmonic. He was replaced, though the Hall gave no reason for its actions initially.
Eventually, Carnegie Hall admitted the obvious. Gergiev-led performances set for May at Carnegie were dropped too.
Another concert venue, the Philharmonie de Paris, also cancelled Gergiev's appearances. Several other festivals, including those in Latvia and Switzerland, cancelled Gergiev performances.
Gergiev is not an ordinary Putin supporter. The maestro has enjoyed a well-publicized relationship with Putin since the early 1990s. For example, Putin provided funding to Gergiev's Mariinsky Theater and showered him with awards. In turn, Gergiev supported Putin, appearing in a television ad for his 2012 presidential re-election campaign. Moreover, the conductor supported Russia's 2014 annexation of Crimea and led a controversial concert in the wake of Russian atrocities in Syria.
Should your definition of PR crisis include financial and existential repercussions, Gergiev's demise indeed seems to warrant the term PR crisis.
Artists and Politics
A question where PR pros can offer counsel is whether or not artists have a responsibility to address their political views.
PR veteran and author Jeremy Murphy, founder of 360bespoke, says there's little upside when artists are openly political. "Don't say anything [political]...do your art. That's what people want to hear from you. That's what people are paying for," he says.
All Art is Political
Some artists, of course, have strong political views and are open about them. It seems Gergiev was in that category for years.
Still, Murphy insists most performers should focus on their art or "be aware of the consequences." He adds, "Obviously if you believe in something passionately, who am I to stop you from expressing that?"
Similarly, PR pro and co-administrator of Club Bravo on Clubhouse James Nickerson says that if artists feel strongly about being political they need to be aware of the potential fallout.
"It's a tough question," Nickerson adds. "Artists really have to be sure enough in their belief that if they lose some of their fan base they will be okay with that."
As a conductor who works internationally, Gergiev, and other artists who appear on worldwide stages, must be aware of politics in countries where they perform, Murphy adds.
For example, Murphy represents an artist who performs in China. The government there is so strict about controlling speech, he says, that officials "will go through your social media and do Google searches and flag anything critical that you have said."
Netrebko's Response
Russian-born soprano Anna Netrebko, a major international opera star and a friend of Putin's, took a different approach than Gergiev. After she was called out last week for remaining silent for decades of publicly supporting Putin, Netrebko countered on social media.
In the post the singer wrote that "she is opposed to the war… [and] wants the war to end and the people to be able to live in peace." She didn't mention Putin.
Moreover, she then criticized several operatic institutions for calling her out. "Forcing artists, or any public figure, to voice their political opinions in public and to denounce their homeland is not right," she wrote. "This should be a free choice. Like many of my colleagues, I am not a political person. I am not an expert in politics. I am an artist and my purpose is to unite people across political divides."
Some saw her post as an attempt to "provide cover" for opera houses that still want to employ her. Yet, like Gergiev, Netrebko openly supported Putin for years. In that light, her statement seems misguided.
And while denouncing Putin isn't without danger, several leading Russian musicians have done so, as have thousands of others.
Earlier today Netrebko posted another anti-war message on social. It included a picture of the singer holding hands with Gergiev.
Saying goodbye to her international career, at least temporarily — "I have therefore decided to take a step back from performing for the time being," she says via Zurich Opera — Anna Netrebko yokes herself to the man who made her a star. pic.twitter.com/GmWNFtPNQg

— Zachary Woolfe (@zwoolfe) March 1, 2022
Unspecified Leave
Late today Netrebko said she'll step back from performances for an unspecified period.
For Russia's Tass news agency, Netrebko and Gergiev were innocent victims of a "cancel crusade."
As for advising a public figure aligned to a controversial politician, Nickerson offers counsel that sounds similar to PR crisis advice. For instance, he insists that a simple apology will not erase the past. "What you have done is already on record," Nickerson says.
Moving ahead, he suggests artists who don't want to remain ostracized consider each political situation as it occurs. "Just because you have supported a political party [or politician] in the past does not mean that everything it or they do aligns with your personal beliefs."
Andrew Byrd is a media associate with PRNEWS